Waystar Royco is an American conglomerate, headquartered in New York City, consisting of diversified businesses in the fields of Media, Entertainment, Parks/Cruises, and others.
Waystar Royco (WAYA US) is publicly traded on the NYSE. It is majorly owned by The Roy Family at the beginning of the series.
Season 1
[
]
At the beginning of season one, Kendall Roy is the heir apparent of Logan Roy. As Kendall is in his office discussing the Vaulter acquisition with Frank and others, Logan enters unannounced and deceptively has Kendall sign papers agreeing to add his step-mother, Marcia Roy , onto the board, with the stipulation that she'd get Logan's vote if something were to happen to Logan. He then presented these papers to his other 3 children at his birthday celebration, all of who eventually declined to sign. Later , at a baseball match in a private club's grounds, Logan fires his long-time friend of 30 years, and COO of Waystar Royco, Frank Vernon so that he can offer the position to his son Roman Roy as a incentive to sign. In the helicopter taking them back home, Roman and Shiv Roy express unwillingness in signing the papers. This angers Logan so much that he suffers a stroke. [1]
As an unconscious Logan is treated at the hospital, the family discusses who should be the CEO in the event he dies. Gerri Kellman, Frank Vernon and Karolina Novotney come to the hospital and setup a 'war room' to manage the situation in the case of Logan's death, and to make sure there's a clear answer before the markets open the next day. After discussions with Kendall and the family, it is decided that he would be made the CEO; and his brother Roman would be made the COO.
After this is decided, Gerri informs an incredulous Kendall about the debt of 3 billion owed by the company. The only people who knew about the debt were Logan Roy, Frank Vernon and Gerri Killman. In 1985, Logan needed capital for the expansion into parks, so he took out a loan through the family holding company with the knowledge that most of the shareholders had little knowledge of the loan. This exacerbated the company's considerable debt portfolio. Part of the loan conditions include a clause where the loan is secured against Waystar Royco's stock price: when the stock hits 130, the company's creditors can pursue immediate payment in full. Considering Waystar Royco's other obligations, this clause could functionally destroy the company. The banks might not renegotiate due to Logan Roy's incapacitation and Kendall Roy's seeming inexperience at the helm of a major corporation. [2]
Greg Hirsch started working at Waystar Royco. Tom Wambsgans was promoted from managing Resorts South and Central to sitting in the private Board Room with Kendall Roy and now Roman Roy. Waystar Royco officially fell below 130 points in the stock market. Kendall sold a large percentage of the company stock to Stewy Hosseini in order to save Waystar Royco from Logan Roy's debt obligations. Stewy Hosseini, a major investor, generally does not take minority stakes in public companies, agreed to a deal which secured him voting stock. The Roy Family would maintain effective control while Stewy would gain a board seat and help keep the debt out of the news.[3]
With the Vote Of No Confidence against Logan Roy approaching, Kendall Roy and Roman Roy must get all their ducks in a row to ensure they have the majority vote. Roman attempts to sway neutral board member, Lawrence Yee, taking him out to dinner with his boyfriend to confirm they have his vote. He eventually agrees yes. [4]
Tom Wambsgans decides to reward Greg Hirsch for helping him deal with shredding all those documents over Thanksgiving weekend. While at dinner with Tom, Greg is having a hard time finishing two meals. And informs Tom that he previously had dinner with his grandfather. He brings up The Vote to Tom, who immediately calls Ken to inform him what's happening.
The next morning Ken flies out to Long Island to get a yes vote from Ilona Shinoy. He secures her vote but is unable to return back to the city. There is a lockdown and they are in a no-fly zone. Ken tries to make it back to the city but ends up stuck under the bridge, with no cell service. He eventually gets out of the car and begins running towards Waystar Royco's office building as it is already noon and the voting will begin soon.
Logan is ambushed by the vote and refuses to leave the room. Logan strong-arms more people to vote with him, instead of his son Ken. Frank Vernon and a bunch of other people vote against Logan, but everyone else votes for him, including his son Roman. Logan stays and immediately fires everyone who voted against him, including his son. [4]
In an effort to fix his public image, Logan agrees to a weekend-long family therapy session at his son Connor's New Mexico ranch, Austerlitz. Unbeknownst to most of the Roy family, he's arranged to have it double as a publicity stunt. Meanwhile, Kendall Roy has cut off communication with everyone and is suing his father and possibly his brother after being fired from Waystar Royco. Roman and his father go to a small photoshoot together, where his father gives him more responsibility. [5]
Shiv is considering reconciling with her ex-boyfriend Nate Sofrelli both romantically and on a business deal. Shiv halfway through the first day of therapy, leaves the group to go take a meeting with Gil Eavis, a potential presidential candidate who goes against everything her father stands for. Later, Logan confirms he knows about Shiv's meeting. [5]
The Roy Family assembles at Eastnor Castle in England to prepare for Shiv and Tom's wedding. Logan Roy has decided to stay back in the United States, but after his team is unable to find a good enough reason for him to not attend his daughter's wedding, he changes his mind and decides to make the journey. Though it would appear, only for the good PR. [6]
Kendall Roy meets with Stewy Hosseini inside an old English pub to finalize their discussions about the takeover. Luckily, with the exception of her father, everyone from Waystar Royco is attending Shiv and Tom's wedding.
Before the big party starts Ken has a walk with Frank Vernon to discuss what the Canadians think of him and Frank says it isn't very flattering.
Tom pulls Shiv away to talk. Shiv changes the conversation to Tom's cover-up of the cruise files. She decides she wants more details about it and asks for them and Tom reluctantly agrees.
Shiv meets with Gerri Killman to discuss the information she just found out from Tom. She says she has no problem with them and trying to say what they want about her political candidate Gil Eavis, but that once they get to the final round the elections, all negative press must stop. In addition, she is also angling to get Tom, either moved away, or moved up, or from his current position at Waystar Royco to ensure he doesn't take the fall for anything to do with the cruise complaints and covering up, and shredding documents.
Ken is informed by Stewy and Sandy Furness that the hostile takeover will be moved up to this weekend. And is going to take place tomorrow, on Shiv's wedding. As it is the perfect time with Logan out of the country. Ken begs them to reconsider, as he says there isn't enough time to get everything together. Though un-said, he most likely doesn't want to ruin his sister's wedding. [6]
The day of Shiv and Tom's wedding has finally arrived. While photos are still going on, Kendall Roy has finished up his part in the photography and has quarantined himself away with Stewy Hosseini and Jesse Armstrong. During this time, Stewy and Ken decide to do more cocaine, and Stewy says Ken has to tell his father of the takeover. He reluctantly agrees. [7]
Ken meets with Logan Roy in his private rooms to inform him of the takeover of Waystar Royco. His father asked if this is a bear hug, and Ken confirms it is. Furious Logan kicks him out. Marcia Roy comes in as Logan is fishing out the papers he threw in the toilet. He demands to get everyone on the phone, including Carl and Gerri.
During the reception Roman Roy finds a place to watch his space launch go off in Japan. Roman watches it alone in a small bathroom., only to watch the entire spaceship blowout before his eyes. He immediately turns off his phone and avoids all responsibility, telling no one.
Gerri Killman confronts Roman about his spaceship launch in Japan. She demands to know why he hasn't been doing anything, and he lies, saying he had no idea what happened. Pretending to be baffled, he is shocked to hear about the explosion. Gerri immediately begins going over any legal ramifications with him. And he confesses that he had the launch moved up so that it would be on his sister's wedding day. She tells him, he is looking at corporate manslaughter if anyone dies.
After being berated by his siblings Ken goes back to his room with Stewy. He asked for more cocaine but his friend tells them they have to be on the ball as they are going to be giving updates every two hours. Ken asks again for more cocaine but Stewie he simply says he's all out.
Gerri informs Roman that no one has died in Japan. The details are still being sorted out, but it looks like two people have lost their thumbs and a third might have to get their arm amputated. Ron is overjoyed to not receive any major consequences.
The next morning at breakfast, Ken is called into his father's library. Logan makes a mock display of asking if anything was stolen as his key card was found on the fired employee. Logan has everyone leave the room and he informed his son he knows what happened with Andrew. He promises to cover up everything for him, but he has to tell Sandy Furness and Stewy he's out. Ken cries in his father's arms but obliges. [7]
Season 2
[
]
Kendall Roy is flown to New York early in order to make a news channel appearance for the world to watch. He is met with Karolina Novotney who prepare him. With his go-to line being "I saw their plan that his father's was better." [8]
Back in New York City, Ken has another sitdown with his father, Logan Roy and Karl. They discuss what their rival team will know, and Ken tells Logan the basics. Ken discloses that he told Stewy and Sandy his father's medications as well as a couple more personal incidences.
Logan has a private meeting with his banks will inform Logan to pick a successor for the Waystar Royco, and on the business fundamentals, he should make a deal and sell.
After arriving in The Hamptons, The Roy children demand to know why Ken is allowed so easily back into the family fold of things & in the business. Roman is also upset to find out he now has to share his position with his older brother as well. Logan that genuinely asks his family what you should do with his company, buy, or sell it.
Shiv is brought into Logan's study second, where Logan wastes no time in informing her that he wants his daughter to run the company. She agrees, and they both decide to keep things quiet for now until more details can be sorted out.
The family is back together for dinner, But Logan cuts out early and brings Ken with him by helicopter from the Hamptons back to New York City, and are going to be having a private meeting with Stewy Hosseini and Sandy Furness. Logan tells Ken to go on ahead, and tell the other men he's taking a call and will be in shortly. Once inside, Logan calls to tell him he's not coming in and will have to conduct the meeting himself. [8]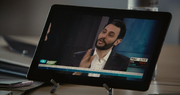 Everyone is at Waystar Royco celebrating Ken's daughter's birthday. Shiv Roy, Roman Roy and Kendall Roy are all called away for a quick impromptu meeting with Logan Roy. [The Roy Family|The Roys]] gather around to listen to Stewy's TV interview, using the previous talking points Ken knew they would hit. Claiming that Logan is too old, and out of the loop to run his business. Logan agrees to go with Shiv's proposal of immediately firing back at their opponents that day. [9]
That night Shiv visits her father to talk company strategy. Logan wants Shiv to come in for six months to work with Gerri, another six months in Hong Kong, and 12 months with him, along with other strategy projects, that would take up to three years before Logan feels she's ready to come in. Shiv wants to fast-track it.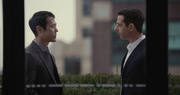 The next day Ken announces to Lawrence Yee that his father and Waystar Royco will be doing a routine check of his new company. He'll be conducting it personally along with his brother Roman. The brothers look into the company to see what can change. Roman feels out of his element and even briefly calls Gerri to come to help him before hanging up on her. Ken spends the next 36 hours buried in paperwork thanks to Lawrence, who is trying to bury him and it. Unbeknownst to him, Roman has taken out a couple of staff members and gotten them drunk, in order to find out any details or gossip.
Tom has been moved up into HTN and has brought Greg with him. Tom tells him to go look for any fat that needs to be cut out. By the end of the day, Greg informs him that they should digitize as everything the media company takes far too long to do manually.
Ken and Roman have a meeting with their father to tell him what they found about the company. Ken suggests they keep it as they have a lot going for it, but Roman brings up how they want to unionize, and most of the employees do nothing. Logan goes with Ron suggestion, and get rid of the company.
That night Ken goes into the company to secretly install Wi-Fi blockers. That morning he arrives at their company to inform everyone they have been terminated and have 15 minutes to get out of the company. Lawrence demands to know why, and Ken only answers "because my dad told me to"
Shiv quits her job, while simultaneously is fired. She calls her father, and tell him she wants in. [9]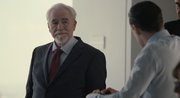 Logan Roy has a meeting with his doctor who reminds him to take it easy, Suggesting he sit out the company retreat in Hungary. Logan puts off seeing his dying friend Mo, and goes into a board meeting, demanding to know why no one has found a problem to his solution with Sandy Furness. He then informs everyone, their company will be taking over media-giant PGM. He asks if anyone has issues with getting involved with Naomi Pierce, even deciding to bring Frank Vernon back on the team for how close he is with Naomi. The few board members that make negative comments about the deal are immediately shut down. [10]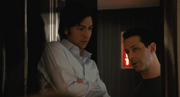 Shiv wants Tom to talk to her father about the deal while they are in Hungary, telling him it's a bad idea. Everyone is packing their guns for Hungary, ready for the big sporting event. While on the plane, Karolina Novotney informs Logan finds out that Michelle Pantsil has a source from inside his private camp. He demands Sam find out who, after accusing his son Ken, who quickly denies it.
Once in Hungary, Frank arrives at the million-dollar house to greet the rest of the company. Ken, Logan and, Frank have a quick meeting to discuss how taking over PGM would work.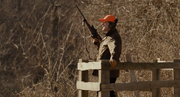 Everyone gathers around to shoot pigs that are released before them as they stand up on high towers with their rifles. One of them eventually shoots a pig and they all gather around for a photo before having dinner, with boar as the main course. Before dinner, Jerry and Carl tried to pressure Tom to tell Logan, that PGM is a bad idea. Meanwhile, Logan finds out that someone tipped Pierce off, and he is furious, demanding to find out who.
Not long into dinner, Logan confronts all his staff members, demanding to know who informed Naomi Pierce. He also wants to know who has been talking to the woman trying to sell a book about him. He first insults Frank, demanding to know why he took his job back. Then Asks If Karl's white knows about all his visits to the whorehouse. Logan makes Karl stand in the corner, followed by Tom and then Greg. Though he spares Gerri. He then berates them and embarrasses them, and has everyone else join in, before making them fight over sausage, the loser would be considered the mole. They are fighting it out physically, Ken discovers it would his brother Roman who was going to take a sit-down with Naomi Pierce. Logan is furious and calls him a moron. Ken informs his father, no one backs him on the PGM deal. Logan plans to go ahead with it anyways.
The next morning at breakfast, everyone is still surprised and taken back by the nights before. Logan finds out Mo was the one who talked to Michelle Pantsil and passed away the night before. Logan then calls his daughter shoot to bring her into the company the next day to shadow him, and Gerri convinces Roman to take the 6-week management course. [10]
Kendall Roy arrives early to Waystar Royco where he makes his first contact with Rhea. He calls her on her personal number, he received from their mutual family-friend Frank Vernon. [11]
Shiv Roy and Tom Wambsgans are riding together to work and talking about the controversial employee, Mark Ravenhead. However, they are met by protesters, demanding Ravenhead stay at the news network after the media picked up the old video footage.
Roman Roy starts his six-week training program. As part of his training, Roman has to dress up like one of the characters from the parks. Later, in class he's sitting beside Brian. They are assigned to make up a ride for the company that would interest customers.
Logan Roy celebrates his daughter coming to work with him at the company, Shiv overlooks her first board meeting, telling everyone she is not there. Once Logan arrives they start discussing Pierce News merger. They also talk about Mark Ravenhead, and what they should do about his situation. As he recently got married at Eagle Nest, Hitler's retreat in Bolivia. Wanting to make sure they don't have a Nazi supporter on their hands.
Tom has a sitdown meeting with Mark, about whether or not he is a possible Nazi supporter. However they are interrupted by a gunshot, and everyone scatters in different directions. Greg and Tom immediately meet up and stick together. They are directed towards a panic room by security.
Upon hearing the gunshots, Logan is immediately whisked away to a very private and secure safe room. Soon, Rhea is ushered into the safe room with Logan and Shiv. Ken is eventually ushered into the private safe room with his father and Shiv. Ken, Ray, and Logan all get into the real reason why PMG won't sell their company. Ken begins to sweeten the deal with more money before an unofficial deal is made and confirmed.
Meanwhile, Roman is asked if he would like to leave the room, as there is been a shooting at his father's company. Later, Brian finds him to let them know they won. Roman insists it was just the family name.
Tom and Greg kind of makeup, before, Greg leverages information he has on Tom, from when Tom made him shred a bunch of documents during Thanksgiving. Tom agrees to let him go work in a different department.
The next morning Ken again finds himself standing on the balcony, as he had during the shooting. Only this time there is glass, 10 feet high, stopping any potential employees from jumping. [11]
The company's jet is suspended in the air and has been circling for an hour. They, along with many other billionaires are all waiting to land at the same airport. The entire team is waiting to arrive at the world conference in Argestes. Logan demands more information about The Pierce Family settlement and what's taking so long. Kendall agrees to go in and talks down to the other side of the plane, demanding more, better and faster results. The Roy Family finally arrives at the conference, and soon meet up with Tom and Gregory. They are interrupted, as Colin ushers Logan, Gerri, and Ken into another room. They are informed a magazine has been tipped off about the cruise-line scandal and is going to publish it within 36 to 48 hours. They get on a conference call with Shiv, and all begin discussing what to do. Logan decides to go with Ken's idea of being loaud and mean, and they all agre they need to get the Pierce family contracts all wrapped up sooner rather than later. They also agree they need a white knight, and Gerri suggests Roman, while Logan asks Shiv to fly down. [12]
Gregory runs through the rain to find Tom and informs him that the quote they wanted to use to address public-outcry over the cruise of "we're listening" was no longer a valid option because it turns out in the contracts Waystar Royco actually was listening. They debate on changing it to "we hear you" but think it has the equal amount of illegal shadiness behind it.
Gerri finds Roman and informs him, he needs to secure a position with Eduard Asgarov because things are happening in the company right now and they are facing uncertainty. Roman reluctantly agrees. He later asked Gerri how legal that was for him to do, but she isn't too worried about it. Roman also propositions Gerri that they should work together more. Insinuating she is brilliant, but no one pays attention to her, she needs him because he's willing to be the loudmouth rockstar.
Nan and Rhea finally arrives and have breakfast with Logan and Ken. They are trying to subtly rush the agreement and even inform the ladies they have papers to sign in the other room, but Nan declines to have breakfast first. Unfortunately, Ken finds out the story has broken, and the two quickly make their exits to do re-con. In a private room, Logan has the article printed and brought to him, while everyone scans it on their phone. The magazine didn't like how they were being treated, claiming the Roy's were bullying them and have decided to move the story up. The magazine claims Moe asked dancers for sex in order to keep their contracts renewed for the following year. One girl declined and was fired, and blacklisted from other events. Roman arrives and all the kids disagree on how this looks. They ask Shiv to be on the panel, but she says she's not involved. Gerri also declines thinking it will send a bad message to have a lawyer speaking. They decide on Roman and Ken.
Shiv reluctantly meets with Rhea to discuss what's going on with the Pierce family. She admits she wants the deal to go through because it would make for a good paycheck. Rhea also convinces Shiv she'd be good to be on the panel, and Shiv agrees.
Not long before presentation Shiv shows up to tell her family she wants in on the panel. Everyone argues and they try to knock Roman off. Gerri shakes her head indicating Roman fight to stay on. Logan eventually decides all three of them will go on the panel together. They are waiting behind curtains while Tom finishing up his speech.
All three are on stage and Shiv and Kendall dominates the conversation. Romans says very few words through the entire thing, all while Logan and Marcia are watching in the audience. Shiv acknowledge that this is very serious while also repeating it happened a long time ago, while Kendall says these accusations are horrible and they will be dealing with them swiftly. Shiv makes a joke about her father being a dinosaur, as times are changing. After the conference, they all get into a fight, where Roman makes another smart-aleck comment only to be struck in the face by his dad. Knocking out a tooth. [12]
They finish off the weekend at a comedy roast special. The comedian sees Logan's family enter, and lays into them about the sexual assault allegations on the cruise-line. Nan Pierce is at the back of the room and immediately leaves. Logan follows her out with Rhea. He asks if everything is all great and if the deal is still good to go. She says it's not and fires Rhea. Nan accuses Rhea of working against her and she no longer wants any part of it. Logan loses his temper and followes her out to her car yelling at her to come back. [12]
Gerri Killman wants to confirm with Roman Roy if he was serious about their working relationship. He confirms he is. Logan Roy is standing beside Marcia Roy overlooking his party. Glad to see that the negative press stirred up by Sandy Furness and Stewy Hosseini has done nothing to damper his social standing and his stock market numbers. Frank Vernon and Gerri Killman call for a private meeting with Logan, Ken, and Roman all upstairs to discuss their strategies. They need to make sure they have all the shareholders on their side and decide to fly to London to talk with everyone including his second wife Caroline Collingwood who has 3%. Logan decides to send his kids to make arrangements with her. Shiv Roy is purposely left out and downstairs talking with Tom Wambsgans. [13]
The next day at work Tom's getting ready to be interviewed about the Cruise-line cases. He's assured it is all a formality but quickly discovers it is not. Tom confronts Greg Hirsch about the papers he saved for himself, now demanding they also be destroyed.
Tom finds Gregory at his apartment and demands the papers, threatening him with violence. The next day Gregory finally gives Tom the papers he was hiding in his desk. Tom confirms they will destroy them together. Later that day Gregory records himself in the bathroom, making sure his phone can pick up the conversation around him. While he and Tom are trying to burn the documents, the lighter will not ignite so Tom retrieve some matches. During his disappearance, Gregory grabs a couple papers and stuffs them in his back pocket. Tom returns and lights the rest of them on fire.
Shiv and Roman arrive together and hug there mom. She cuts to the reason they are there and asks how much money Logan is offering. Roman who was previously informed by his father he could go between 10 million but no more than 50 million. She demands the Summer Home, worth 120 million, or a simple 20 million but she gets the kids every Christmas. Claiming it will be Logan who decides. Wanting to make him choose.
Shiv finally tracked down her father to ask where she stands in the company. Though he doesn't give her a clear answer, be demands to know why she was thinking about working with The Pierce Family. The rest of them go back to New York without her. [13]
A small group of people from Waystar fly overseas with Logan and his family to Dundee, Scotland; Logan and Ewan's birthplace. While on the plane, they discussed a whistleblower who was looking to expose the cruise-line scandal, and Logan agreed to offer him $5 million willing to go up to $10. A couple of days later they were at Logan surprise party for his 50th business anniversary. Gerri collects a small group including herself, Shiv, Frank, Karolina, Cyd, Jamie Laird, and Hugo Baker. They want to discuss what to do about the whistle-blower as he had immediately declined $20 million and it would appear he was determined to expose everyone. Shiv makes the call to tell her father the next day, knowing that her father is inclined to make Rhea the next CEO, and the next CEO will have to take the heat for the Cruises scandal. [14]
After being reassured of his choice by Shiv, Logan announces Rhea as the next CEO of Waystar Royco. When Logan returns to the US, he finds that the Cruises scandal has been made public and the Congress wants him to testify. As the Waystar team strategize in Logan's home, Rhea comes in and accuses Logan of using her as a scapegoat.
It's decided by Waystar Royco team that they will throw Bill Lockheart, the man who tried to clean up cruises along with Kendall, under the bus. When they arrive at the Congress to testify, they find Bill already there. Bill tells them he came there to support Waystar, however in a later conversation with Logan, implies that he would fight and publicize Waystar's dark secrets if he was blamed for the Cruises.
Some executives in Waystar Royco, including Tom Wambsgans, Logan Roy, and Kendall Roy testify in the congress about their involvement, or lack thereof, in the cruises scandal. Gil Eavis questions Tom about the abusive culture in Waystar Royco, and the way he treats those under him. He is also questioned about the destruction of documents on Cruises under him. When he's asked if he knows a Greg Hirsch who took the documents out from the archive, he nervously says no before changing it to a yes, much to the dismay of Shiv and others in the Waystar team. After Tom's disastrous interview, Greg becomes panicked in the waiting room, leading to an irritated Logan ordering him to get out. Shiv goes to talk to Gil and Nate in private and tries to broker a deal, but Gil is uninterested. She offers Bill, but then realizes that they have a witness.
Rhea makes contact with the witness and arranges a meeting. Shiv goes to talk to the witness without Rhea, who is unwilling to threaten a witness for the Roys. The witness is initially uninterested in talking to Shiv, and says she owes it to the other victims to bring the crimes committed onboard Waystar cruises to light. Shiv tells her that when she becomes the head of Waystar Royco, she'll clean the house and make sure men like Lester are punished. She convinces the witness that the congressional testimony will only bring her pain, and that even though she's being selfish in asking the witness not to testify, the ones asking her to testify are also selfish and just want to advance their careers. They would forget about her after she has testified, while she'll have to live her whole life as the cruise victim.
The lack of a witness weakens Gil's case significantly. Logan and Kendall Roy testify in front of the congress and are asked questions by a friendly Republican senator. Kendall accuses Gil of being biased against his father and using his congressional powers to weaken Logan Roy. As Waystar employees and allies are celebrating the successful testimony, Rhea talks to Logan about her continued role in the company. Realizing that Logan knew about the Cruises and that he's willing to lie to her and the others so callously, she resigns as the CEO.
On the way back from Washington, Logan tries to decide who will be blamed for the Cruises coverup. He is contacted by a major shareholder who mentions that Logan accepting the blame will be the only acceptable option to the other shareholders. Logan ends the call after telling them he'll think about it.
The Roy family and other top brass of Waystar Royco are invited for a vacation in the Roy mega yacht. After a day of fun, Logan tells them that he's considering taking the blame for the cruise scandal himself. Kendall immediately disputes it, saying Logan will be needed in the company, now more than ever. Frank, Gerri, Roman, Kendall, Tom, Greg and Shiv all discuss who should be blamed. Later, Kendall calls Stewy Hosseini at Logan's behest. In their meeting, Logan offers to end the proxy battle by giving Stewy and Sandy three board seats, including Kendall's own; in addition to a codified say in who will be the next CEO, an end to all litigation, removal of the poison pill, breaking Cruises division off from Waystar Royco holdings, and conduct a strategy review on terms agreeable to Sandy and Stewy. Stewy refuses, saying they are after the 'whole thing', and won't compromise.
Back on the yacht, after an altercation with Tom, Logan talks to Shiv and Shiv asks him not to scapegoat Tom. Logan then talks to his son Kendall, telling him about the Mayan tradition of men sacrificing their children to the gods. Kendall realizes what he's getting at, and accepts his responsibility. He asks his father if he ever considered him a viable successor. Logan admits that he did really well at the hearing, and that he is good, but he's not a killer, and to be his successor, he had to be a killer. Kendall reminisces about the boy who died in the accident, and wonders if this is penance for that. Logan dismisses it, saying that no real person was involved. Kendall thus realizes that his father knew about the Cruises scandal, and let it be.
Kendall and Greg are sent to New York to attend the press conference. Karolina , Waystar's PR manager, advises Kendall on what to say. In the conference, She mentions that Logan will be watching the conference. In the conference, instead of taking the blame on himself, Kendall tells the press that his father was aware of everything in his empire, including the cruises, and that he had documents proving his father had signed off on millions of dollars in settlements and compensations. As he completes his speech, he rips up the paper Karolina gave him with what to say and walks off, as a frenzied press reacts. Logan is seen on the yacht, watching the broadcast with a little smile on his face.
Notes
[
]
References
[
]