Synopsis
[
]
Still addled from the events in England, Kendall tries to make amends with his dad for his takeover attempt betrayal. Logan receives some unvarnished advice from his financial banker about the next best move for Waystar Royco. As Tom maneuvers for a new position in the company, Shiv tries to determine whether Logan is playing mind games regarding his successor.
Plot
[
]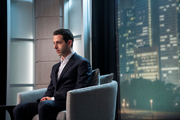 Kendall Roy is in Iceland, soaking in a hot tub, no less than 48 hours after Shiv and Tom's wedding. He is at the rehab facility dealing with the events of the last couple of days. He is called away to meet with his father's men, to be flown back to New York early in order to make a news channel appearance for the world to watch. He is met with Karolina Novotney who prepares him. With his go-to line being "I saw their plan, but my father's were better."
Shiv Roy and Tom Wambsgans are on a giant yacht in the middle of the ocean, trying to get reception in order to watch Ken's TV interview. They are unable to get a good picture and are on the phone with Roman Roy and Gerri Killman who are in Japanese hospital, visiting the patients from the shuttle explosion. Both are discussing their brother's interview and trying to determine what others are going to say about it and if it has any impact on the stock market.
Shiv and Tom talk about the possibilities of their open marriage and Tom's new job at Waystar Royco, ultimately, they decide to cut their honeymoon a little short and go to the Hamptons to see her family.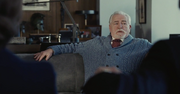 Back in New York City, Ken has another sit-down with his father, Logan Roy and Karl. They discuss what the rival team knows and does not know. Ken tells Logan the basics. Realizing he's holding something back, Karl excuses himself from the room, for a more private conversation between family members. Ken discloses that he told Stewie and Sandy his father's medications as well as a couple more personal incidences, like when his father pissed on the floor. and over poured his coffee cup. Logan excuses his son and tells him he has an office ready for him. Ken asks where Jess Jordan is, as she is normally the one to get him his cocaine.
Logan has a private meeting with his banker Jamie Laird. He recommends making a deal to sell and warns if he doesn't it will be a vicious fight extending years that will soak up all his resources & attention. Jamie speculates maybe one or two legacy media operations can make themselves big enough to survive. Sandy's offering price is inflated, and all signs point to the company trending downwards, which makes selling a good proposition. However, Jamie realizes that rivalry with Sandy goes too far back for Logan to make the reasonable business decision to sell.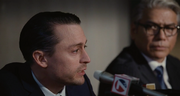 Meanwhile, Roman has to make a trip to Japan and discuss the satellite explosion from days earlier. He was clearly coached on what to say, and make sure to dance around most questions.
Ken and Greg Hirsch have a quick meal together at Ken's temporary home. They talk about their previous conversation back in England, while Ken does some cocaine.
Ken arrives early at the family's cottage in the Hamptons, only to be greeted by a horrible stench. While there, Colin takes him to the laundry room to inform him of what happened with Andrew Dodds. Currently Scotland Yard believes the kid was traveling solo and undo the influence, he was also found with his seatbelt off but was unable to get out of the car. So far his death will be ruled as misadventure.
The Roy children all meet up, and Shiv and Roman demand to know why Ken changed his mind and is now back on their family side. They don't know about the incident, and Ken does not tell them.
The disgusting smell is finally discovered, as a dead possum is fished out of the fireplace. Logan demands all the food be thrown out as it has been sitting around in that odor, and pizza is ordered.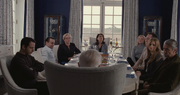 Food is served, but before anyone eats a squabble breaks out. The Roy children demand to know why Ken is allowed so easily back into the family fold of things & in the business. Roman is also upset to find out he now has to share his position with his older brother as well. Logan that genuinely asks his family what you should do with his company, buy, or sell it. Connor Roy wants his father to keep the company, as it will look better for him when he runs for president. A few others voice their opinions, but Logan returns to his office to have his children brought in one by one, to inform them of their opinion.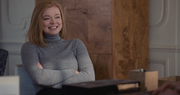 Shiv is brought in second, where Logan wastes no time in informing her that he wants his daughter to run the company. She agrees, and they both decide to keep things quiet for now until more details can be sorted out. Once she goes outside, she tells Tom, her father has agreed to move him to Chair of Global Broadcast News at ATN, but says nothing of her new position.
Logan confronts the man he paid over the winter to do some of the stable work. Accuses him of being disappointed when Logan only paid 200K for the ceiling, so he stuffed a bag of dead raccoons to rot in his chimney. Logan agrees to pay 100 grand, even though it's 300-grand owed. The man declines, and Logan says if he wants any money, he'll have to sue him.
The family is back together for dinner, But Logan cuts out early and brings Ken with him by helicopter from the Hamptons back to New York City, and are going to be having a private meeting with Stewy Hosseini and Sandy Furness. Logan tells Ken to go on ahead, and tell the other men he's taking a call and will be in shortly. Once inside, Logan calls to tell him he's not coming in and will have to conduct the meeting himself. Ken asks if there's any way out for the two sides to come together, and when they decline, Ken gives a very powerful speech about how his father will bury them.
Quotes
[
]
Roman Roy: Well, he's both of those things and also a piece of shit.
Shiv Roy: Should we frisk him for a wire?
Roman Roy: Burn him?
Shiv Roy: See if he's a witch?
Logan Roy: He has taken his medicine.
Shiv Roy: He's taken his medicine? Is that it? Dad, you beat Roman with a fucking slipper in Gustav till he cried for ordering lobster, remember?
Logan Roy: This is wonderful, Siobhan.
Shiv Roy: This is real?
Logan Roy: This is real. Remember this, this slant of light. Remember this. This is it.
Kendall Roy: My Dad wanted me to ask is there any way through this, you know, an asset-swap? Something else, uh, an arrangement that leaves you happy and him in control?
Sandy Furness: As you know, our position is that we're really after the whole thing.
Kendall Roy: Right, then, he wanted me to tell you to say, yeah, obviously our public line will be that we are considering the offer but it doesn't matter what you offer; he'll never recommend this to the board. You're gonna bleed cash. He's gonna bleed cash. It will never end. And maybe, you'll kill him, but if you don't, he aims to kill you. He will go bankrupt or go to jail before he lets you beat him. He will kill you on the business and if that doesn't work, he will send people around. He will send men to kill your pets and fuck your wives, and it will never be over, so that's the message.
Notes
[
]
This episode takes place 48 hours after the Season 1 final, Nobody is Ever Missing.
Rava Roy, Gil Eavis, Jess Jordan and Nate Sofrelli were all mentioned, but do not appear.
Kendall Roy was in Iceland for rehab.
Roman Roy and Gerri Killman were in Japan, visiting the workers from the shuttle explosion, before taking a press conference.
Shiv Roy cuts her hair after her wedding, but before her honeymoon.
The story for Andrew Dodds is the site of the crash was discovered around 4:00 a.m. by two of our guys who saw the busted fence and followed that up. They informed the local police. An entry keycard was found and passed to Colin. That's one individual outside of the loop, but who is known to Colin and who he considered secure. The UK police sent divers in that morning, and Andrew was already dead. He'd unclipped his seatbelt, so he had survived the impact to do that. The initial determination was that he was travelling alone and that hasn't been challenged. The riverbank was also heavily compromised by rain and their guys and the salvage operation, so there were no indicators of another individual. They expect the UK coroner to deliver a ruling of death by misadventure.
Goof - Scotland Yard should've realized the passenger door was open, instead of the driver's side.
Trivia
[
]
The opening theme song has changed a little bit, with a couple of the image cards being changed around.
Sarah Snook has cut her hair.
Brian Cox and Danny Huston both played William Stryker in the X-Men Franchise.
Cast
[
]