Prague
Season 1, Episode 8

Written by
Jon Brown
Directed by
S. J. Clarkson
<font-family:Trajan Pro;font color="white">Episode Guide
previous
Austerlitz
next
Pre-Nuptial
Synopsis
[
]
Tom has a bachelor party to remember; Kendall and Roman eye new business opportunities.
Plot
[
]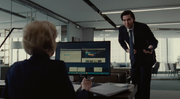 With everyone getting ready for Tom's epic bachelor party, Logan Roy calls Greg Hirsch into his office. Greg originally thinks he's there for another reason and brings up his request to work in a less hostile environment. Logan immediately realizes he's talking about Tom and is surprised, as he didn't think Tom had it in him. He promises Greg that he'll look into it, as long as Greg keeps an eye on his son Ken during the big bachelor weekend. Both agree.
Kendall Roy and Frank Vernon meet with two young artists--mainly Angela--who has an idea for a new app that would find and promote small artists to get their art shown to people with bigger pockets. Though the artists are in it for their love of art and helping people, Ken is clearly in it to make money--implying that they would all get rich.
The party is put together by Roman Roy. He originally wanted it to be in Prague, but appears to have dropped the ball. The whole gang meets in the middle of nowhere along with Connor Roy who flew in and two of Tom's friends. Ken shows up late and possibly on drugs. Roman insists the party is inside an old railway bridge building. But he allegedly forgot to include two of Tom's friends who can't get in. Tom Wambsgans promises they'll come back for the boys once they are inside. Connor is still annoyed they aren't going to Prague, as he already had been setting up his circadian rhythm for the past two weeks, so that he could party hard.
Once they are inside, they must leave their phones and enter an underground party with many rooms. It appears everything goes, and, within reason, you can do whatever you want. Tom is excited and tells everyone that Shiv gave him the green light. Greg later asks what this means, and if Shiv is allowed to do whatever she wants. This makes Tom uncomfortable and he begins to have second thoughts, and starts a round of phone calls to Shiv. She tells him not to worry about it, as she is busy working with Gil, and unbeknownst to Tom, Nate as well.
During Tom's bachelor party, Shiv Roy is working alongside her father's nemesis Gil Eavis and her ex-boyfriend, Nate Sofrelli, who is constantly trying to start up a relationship with her again. She always declines, but allows continuing flirting and touching. Eventually the two are in bed together, but Shiv doesn't seem to consider this cheating, as both she and Tom have the green light.
Back inside Tom's bachelor party, Ken is informed by Frank that Angela has decided to work with someone else. This immediately annoys Ken, who asks her why. She is also at this underground party. The two exchange words and she eventually tells him to fuck off.
Greg, who has been keeping an eye on Ken the whole night, finds him about to snort four lines of cocaine. Ken says he has already done four, and another four would probably make him overdose. Not wanting him to die, Greg is pressured into doing the last two lines. Never having done cocaine before, he is genuinely worried he might now overdose. Tom does nothing to make him feel better, and says he might die.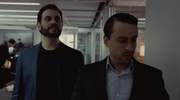 Ken and his old buddy Stewy Hosseini began making some arrangements. Stewy even brings up that his boss Sandy is willing to buy Ken out of his portion of Waystar Royco for half $1 billion. Ken is very much considering this, but immediately asks to meet Sandy Furness himself.
While all of this is going on, and the sole reason for Roman having brought everyone to this underground party, is so he can meet with Sandy himself. Before the end of the night he finally finds the man, and offers him a proposition. Roman wants to land a deal for local TV stations with his father's longtime nemesis. Sandy agrees but after Roman leaves, Sandy tells Stewy to just yank his chain for a while before dropping him.
The night ends with everyone rounding up, and Tom informing Greg he received a blow job from Tabitha (Caitlin FitzGerald), a girl they met at the party. Tom boasts that, after Tabitha kissed him, she put his own cum back inside his mouth for him to swallow, an act which he assumes is supposed to be very sexy. It doesn't take long for everyone to hear about this news, and to make fun of Tom, while they all wait for their car together. Before the night is over, Shiv and Logan have dinner together. The two get into an argument and leave before they can eat. That night Marcia Roy calls Shiv, to tell her that Logan can no longer come to her wedding, claiming that he is too sick. Shiv is aware the two events are clearly related.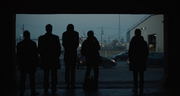 The next morning Ken calls Fred, to spread rumors about the young artists, including Angela, that dropped him. He wants to spread rumors that they shoot up and are sluts. He is also made an agreement with Sandy and Stewy to undermine his father's company for a takeover.
Notes
[
]
Both Willa Ferreyra and Rava Roy are mentioned, but do not appear.
This episode takes place one month after, Austerlitz.
Kendall Roy is offered half a billion dollars for his share in Waystar Royco.
Shiv and Nate Sofrelli hook up.
Instead of going to Prague, Tom's bachelor party happened inside an old rail way bridge.
Logan claims he is too sick to attend his daughter, Shiv's wedding after they get into a fight.
Introduction of Caitlin FitzGerald as Tabitha
Cast
[
]
Promotional Videos
[
]