Real Name:
Nan Pierce
Current Location:
United States of America
Children:
Naomi Pierce (Cousin)
Affiliations:
PGM
Gender:
Female
Status:
Alive (Married)
First appearance:
Tern Haven
Portrayed by:
Cherry Jones

GALLERY
Nan Pierce is head of PGM, as well as the Pierce Family.
The Roys gather around to listen to Stewy's interview on PGM, using the previous talking points Ken knew they would hit. Claiming that Logan is too old, and out of the loop to run his business. Logan agrees to go with Shiv's proposal of immediately firing back at their opponents that day. [1]
Logan Roy then informs everyone, their company, Waystar Royco will be taking over media-giant PGM. He asks if anyone has issues with getting involved with the Pierce family, even deciding to bring Frank Vernon back on the team for how close he is with Nan Pierce. The few board members that make negative comments about the deal are immediately shut down. That night, Roman asks Tabitha if she can get him in contact with Naomi Pierce.[2]
Logan finds out that someone tipped Pierce's off, and he is furious, demanding to find out who. Not long into dinner, Logan confronts all his staff members, demanding to know who informed the Pierce family. Ken discovers it would his brother Roman who was going to talking with Naomi Pierce. Logan is furious and calls him a moron. Ken informs his father, no one backs him on the PGM deal. Logan plans to go ahead with it anyways.
Before arriving back home, Frank informed Logan that Pierce's CEO, Rhea Jarrell, emailed him and is interested in meeting. [2]
Kendall Roy makes his first contact with Rhea Jarrell for a meeting.
Logan arrives to the board meeting where they start discussing Pierce Media merger. They also talk about Mark Ravenhead wanting to make sure they don't have a Nazi supporter on their hands.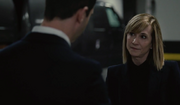 Ken meet Rhea in private. She comments on the protesters out front, before they make their way upstairs to have a private meeting with just the two of them and Logan. She informs them that the Pierce Family is not interested in selling their company to him.
Upon hearing gunshot sounds, Logan is immediately whisked away to the safe room. Soon Rhea is ushered in with Logan and Shiv. Ken is eventually ushered into the private room. Rhea exclaimed she is finding it harder and harder to explain why she has to keep canceling appointments and meetings that she has been MIA for hours. Ken, Ray, and Logan all get into the real reason why PMG won't sell their company. Ken begins to sweeten the deal with more money before an unofficial deal is made and confirmed.
Logan's sees Rhea off to her car, and she suggests a peace offering, like firing Mark Ravenhead for personally offending Nan Pierce. Logan agrees. [3]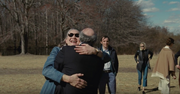 The Roy Family fly company helicopters to meet the Pierce family. The entire family is waiting for them, and Frank Vernon greets Nan Pierce. She clearly has some disdain about the whole thing and the two laugh about it. Once inside the Pierce family mansion the two families start to mingle more. Logan gives a speech after Nan encourages him to. [4]
That night at dinner everyone is having rather cordial conversations. Ken and Naomi are sat close to each other and are mildly flirting. The topic of Tom's work at ATN comes up, and everyone begins to insult him. He smiles and takes it like a champ. The question of who will succeed Logan comes up, but he declines to answer. He is continuously pressured until Shiv announces she will be taking over the company. Her brothers are all rather surprised, and her father in a spout of anger quickly shuts-down the conversation. An awkward silence ensues, so the head of the household Nan suggests everyone go for a walk as Mark points out the constellations. Once outside everyone is stargazing, but Ken and Naomi sneak off.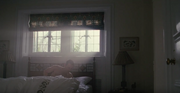 At breakfast, Rhea announces that Pierce family all had a private meeting earlier and will be having another private meeting between Nan and Naomi and they want Logan, Shiv, and Ken to meet them after breakfast. They all are gathered in a small room, they agree to let The Roy Family buy their company, but have a list of conditions. Logan doesn't like some of them but agrees anyway. Until they demand that Shiv be announced as his successor the same day they announced his merger. Logan disagrees and says the deal is off. The family leaves soon after by helicopters. However, once they land home, Logan gets a phone call, the Pierce family has changed their mind. [4]
Nan and Rhea arrives and have breakfast with Logan and Ken in Argestes. They are trying to subtly rush the agreement and even inform the ladies they have papers to sign in the other room, but Nan declines to have breakfast first. Unfortunately, Ken finds out the story has broken, and the two quickly make their exits to do re-con.[5]
All three are on stage and Shiv and Kendall dominates the conversation. Shiv acknowledge that this is very serious while also repeating it happened a long time ago, while Kendall says these accusations are horrible and they will be dealing with them swiftly. Shiv makes a joke about her father being a dinosaur, as times are changing. They finish off the weekend at a comedy roast special. The comedienne sees Logan's family enter, and lays into them about the sexual assault allegations on the cruise-line. Nan Pierce is at the back of the room and immediately leaves. Logan follows her out with Rhea. He asks if everything is all great and if the deal is still good to go. She says it's not and fires Rhea. Nan accuses Rhea of working against her and she no longer wants any part of it. Logan loses his temper and followed her out to her car yelling at her to come back. [5]
Community content is available under
CC-BY-SA
unless otherwise noted.