Jurassic World: Dominion Dominates Fandom Wikis - The Loop
Play Sound
Real Name:
Marcia Roy
Originally From:
Beirut, Lebanon
Current Location:
United States
Husband:
Logan Roy

Children:
Amir
Affiliations:
The Roy Family
Gender:
Female
Status:
Alive (Married)
First appearance:
Celebration
Portrayed by:
Hiam Abbass

GALLERY
Marcia Roy is Logan Roy's third wife and is fiercely devoted to Logan but has yet to earn the full trust of his children, especially Shiv Roy.
Early Life
[
]
Marcia Roy's first husband was a Lebanese businessman. They had the high life in Paris, lot of parties, with pools, and writers, and also a lot of "shitbags and slimeballs", arms dealers and oil guys. There are some possibilities that Marcia comes from Tripoli, Lebanon, or turned up in Paris as a publishing assistant at 31, eventually marrying a man or having a clean-up job, [1] but most of Marcia's history remains shrouded in mystery to many people.
Season 1
[
]
Logan Roy wakes up in the middle of the night only to be disorientated and has a leak in the corner of the room. Realizing his mistake, he allows his wife, Marcia Roy to take him back to their room. That evening, Ken and the rest of his family celebrate Logan's 80th birthday and are introduced to Greg Hirsch. Logan calls for a meeting with all his children. Marcia enters to calls them all for dinner. Everyone enjoys dinner until they decide to have their traditional game of baseball. They all get in their cars and drive to the helicopters. The family arrives at a baseball field ready to play. After the game Logan instructs all his kids to fly in his helicopter, and after a fight breaks out, he has a stroke. [2]
After Logan's medical emergency the brothers are all trying to do damage control after the doctor informs them Logan had a hemorrhage stroke and is currently unconscious, and unresponsive. There is a hostile moment between Shiv and Marcia over the disagreement on whether or not to move Logan to a better hospital. Marcia wins. While trying to get Greg out of her hair, she sends them back to the apartment to pick up some of Logans thing.[1] Weeks later, Logan has returned home but is preventing anyone from seeing him. Insisting he needs his rest, even when Shiv and Tom Wambsgans stopped by early one morning. One day Shiv ignores her to go up and see him. When she comes downstairs Marcia confronts her, saying if she ever has any questions about her, simply ask next time. [3]
Logan has two medical care workers who were helping him out with walking, as the muscles in his legs had weakened. Marcia encourages him to turn off the music himself if it was so annoying. That night she accompanies Logan to the Charity Ball. [4]
Ewan Roy is invited from Canada for American Thanksgiving by Marcia without Logan's knowledge. Upon arriving at his brother's house, he is kindly greeted by her and the children. Before dessert is served, Ewan storming out after fighting with his estranged brother. he runs into his grandson Greg, and insist they start the 12-hour journey home right now. Greg just got back from something and asks if he can eat first. Marcia said she can make arrangements for someone else to drive him, and he agrees. [5]
With the Vote Of No Confidence against Logan approaching, Kendall has dinner with his dad upon her request. They eat burgers together in front of the TV. [6]
Logan agrees to a weekend-long family therapy session at Connor's New Mexico ranch. Unbeknown to most of The Family, he's arranged to have it double as a publicity stunt. By the end of the second day, everyone is mad at each other. Logan and Marcia know about Shiv's meeting with Gil Eavis, and Ken has arrived intoxicated. Ken and Logan almost get into a physical altercation but are separated by Marcia. [7]
Marcia calls Shiv, to tell her that Logan can no longer come to her wedding. Claiming that he is too sick. Though they both know it's because Logan and Shiv are in a fight. [8]
The Roy Family assembles at Eastnor Castle in England for Shiv's wedding. Logan has decided to stay back in the United States, but after his team is unable to find a good enough reason for him to not attend his daughter's wedding, he changes his mind and decides to make the journey. Though it would appear, only for the good PR. Logan makes his grand entrance by helicopter. He has a light, but heated exchange with his daughter. And before going to bed, finds himself on the staircase along with her political ally, in his opponent Gil. The two men have an exchange of words before they separate. Afterward, Logan's wife, Marcia, has some choice and rude words for Shiv. [9]
Shiv and Tom finally married and now gathered around for photos. After, Ken meets with Logan to inform him of the takeover of Waystar Royco. Furious Logan kicks him out. Marcia comes in as Logan is fishing out the papers he threw in the toilet. He demands to get everyone on the phone, including Karl and Gerri. Later, Logan comes down to join everyone while trying to keep his composure. Andrew, a waiter, asks if he would like more champagne, to which he absentmindedly agrees, but gets champagne poured on his hand and arm. He immediately overreacts and fires the young lad, demanding that he be kicked out immediately.
The reception finally starts, and everyone except Ken is at the front of the room with the bride and groom. Everyone parties well into the night. The next morning at breakfast, Ken is called into his father's library. Logan informed his son he knows what happened with Andrew. [10]
Season 2
[
]
Marcia and Logan and his family travel to the Hamptons for a last summer getaway. As soon as they arrive, they are assaulted by a disgusting odor that fills the entire house. Trying to make the best of it Marcia lights scented candles and sends people to look for the smell. At lunch, after their set food is replaced (on Logan's orders) with pizza because a dead raccoon (the source of the smell) is discovered. The rest of the family demands to know why Ken is allowed back into the family fold so easily. Deflecting, Logan asks his children if he should keep or sell Waystar Royco, to which everyone voices their opinions. He then calls them into his office one by one. Later at dinner it's announced that Logan needs a successor, and the family, unable to decide during the dinner, pick Gerri as their placeholder. On the last night at dinner Logan abruptly takes off early and brings Ken with him. and they fly back to New York. [11]
Days later at Ken's daughter's birthday, three of the siblings are called away for an impromptu meeting with their father, While Connor comments how quick they are to serve their father. That night Shiv visits her father to talk company strategy. Marcia takes note of how Logan finds a reason for her to leave the room, while they talk in private. [12]
Logan officially informs his family they will be binding Pierce Media. However before any deals can be made. The Pierce Family wants to ensure they are selling to good people, and he demands a sharp and crisp image from everyone. They helicopter in, and greet the family outside before making their way inside. Both families are mingling and Logan even gives a speech after Nan Pierce encourages him to. Logan soon heard his entire family into a small room, telling everyone to do better. He scolds Shiv for her rude joke, and tells Connor to stop talking politics, and reminds Ron to be more polite before he ushers everyone back out. Marcia informs him, she is less than impressed with his antics. [13]
That night at dinner everyone is having rather cordial conversations. Marcia is offered more wine, but Logan declines for her. Marcia insists on another cup and insults Logan's preference for wine. The question of who will succeed Logan comes up, but he declines to answer. He is continuously pressured until Shiv announces she will be taking over the company. Her brothers are all rather surprised, and her father in a spout of anger quickly shuts-down the conversation. An awkward silence ensues until Nan Pierce suggests everyone go for a walk. The next morning at breakfast Roman jokes that he was with Gerri while he masturbated in the other room. After breakfast Nan and Naomi have a private meeting with Logan, Shiv and Ken, but end up leaving empty handed. Once they arrived back in New York, the Pierce family has changed their minds and agree to the terms. Everyone celebrates over champagne. [13]
The company's jet is suspended in the air and has been circling for an hour, waiting to land at the same airport. The entire team is waiting to arrive at the world conference in Argestes. The Roy Family finally arrives at the conference, and soon meet up with Tom and Gregory. Aware the Cruise-Line story is about to hit the internet, Logan tells his wife Marcia things might get nasty, and she's going to hear some awful things in the media. She reminds him she's with him no matter what, and she knows who he is. [14]
Later, all three kids are on stage and Shiv and Kendall dominates the conversation, while Logan and Marcia are in the audience. Shiv makes a joke about her father being a dinosaur. After the conference, they all get into a fight, where Roman makes another smart aleck comment only to be struck in the face by his dad. Knocking out a tooth. They finish off the weekend at a comedy roast special. The comedienne sees Logan's family enter, and lays into them about the sexual assault allegations on the cruise-line. Logan leaves to follow Nan outside. [14]
Marcia is standing alongside her husband as they overlook another one of their social event parties. Logan is pleased that the propaganda against him by Stewey and Sandy has not swayed people away from associating him, nor has it dropped his stock market numbers. Soon Logan is called away upstairs to deal with business matters. [15]
The entire Roy family plus staff are on a private plane to Dundee, Scotland to celebrate locations accomplishment of 50 years in the business for Logan. Shiv brings up Rhea's and his possible affair, hoping to create some conflict, but Marcia does not bite. Once they land, Logan is riding shotgun through his old hometown. It is clear his memories are not all good ones, though he doesn't voice most of them verbally. Before diner, the family gathers for a small meeting over drinks.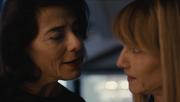 Before making their way to another meeting, Colin interrupts Logan to talk to him in private. Marcia takes this opportunity to corner Rhea and confronts her about her affair with Logan. She denies it, Marcia insists on her being safe and wanting to know if she has any STDs because she and Logan still sleep together. Upon Logan's return, Marcia makes her exit, while Logan and Rhea talk more business. [16]
The next day, what was supposed to be a tour of Logan's childhood home, ends abruptly when he only rolls down his window from the car before leaving moments later. ***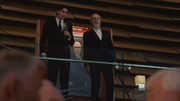 Shiv has a small argument with Tom about Rhea before entering their father's Gala. Logan is on his way with Marcia, informing her, he intends to leave early after the soup and salad. Rhea gathers everyone to be quiet as Logan is arriving, they all shout surprise, and Logan immediately does a 180 outside. He is surprised to find around 200 people when he was only expecting 20 - 30. Marcia calms him, and they are escorted back inside by Colin, where everyone again shouts out 'Surprise'. Having gathered himself, Logan thanks everyone and begins shaking hands. Everyone is seated and gathered for speeches. Where Ken surprises everyone with a rap, showing off his jersey underneath his dress jacket, much to the surprise and enthusiasm of the crowd. Marcia is upset with Logan and leaves after he announces Rhea as his successor. [16]
Notes
[
]
References
[
]