Synopsis
[
]
Kendall is confronted with a debt crisis; Shiv bristles at Marcia's influence on Logan.
Plot
[
]
With Waystar Royco's stock plunging to dangerous lows, Kendall Roy is in crisis mode as the new CEO. After talking with Gerri Killman he finds out that the bank can take over the company if the stock falls below 130. Ken immediately calls the bank to see if they can work out an agreement however his foul mouth gets the best of him and the bank manager declines to make any special offers for him before hanging up.
Logan Roy has returned home but Marcia Roy is preventing anyone from seeing him, insisting he needs his rest, even when Shiv Roy and Tom Wambsgans stop by early one morning.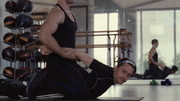 Kendall is racking his brain on what to do, while simultaneously trying to save his marriage, and once again, insists on not getting a divorce. He even spends the night with his ex-wife, Rava Roy but in the morning she confirms she's already hired a lawyer. Roman Roy is spending his working hours with his new personal trainer, a man whom he later sends into a panic when he insists he's going to sue him for giving Roman a sore back. Meanwhile, Tom and Greg Hirsch start to work together at the company. Tom continuously gives Greg a hard time and is a little cruel every chance he gets. Greg tries to take it all in stride.
Shiv is still upset with Marcia for pulling rank and not letting her see her own father. She hires an old partner, Nate Sofrelli to conduct a background check on Logan's third wife. On a following day Shiv, Tom and Connor Roy visit their father's apartment. Shiv ignores Marcia to go up and see Logan. Unfortunately for her, things take an awkward turn when her father mistakes her for someone else and makes sexual advances on her. When she comes down-stairs Marcia confronts her and tells her if she ever has any questions about her, Marcia, simply ask.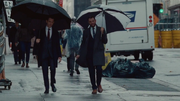 While still desperate to try and save the company and dealing with his father's major debt crisis, Ken works with his old pal, Stewy Hosseini, who doesn't generally take a minority stake in a public company, but agrees to go in, if he gets voting stock. The Roy Family would maintain effective control but Stewy would get a board seat, in return, he would keep the debt out of the news.
Unfortunately, even after all of Kendall's efforts the company still falls below 130 points. However, at least now with his new deal, Waystar Royco isn't in as hard of a freefall. Kendall goes to his father that night to inform him of what's happened, and Logan is not at all impressed. He insults his son before Ken leaves.
Quotes
[
]
Shiv Roy: This is Connor, Logan's firstborn son, you remember him? And this is Tom, my partner, and together they're over 12 feet of We Would Like To See Him, Please.
Notes
[
]
Cast
[
]
Promotional Videos
[
]