Real Name:
Lawrence Yee
Title:
Founder and CEO of Vaulter
Current Location:
New York, New York
United States of America
Affiliations:
Waystar Royco
Gender:
Male
First appearance:
Celebration
Portrayed by:
Rob Yang

GALLERY
Lawrence Yee works with Waystar Royco.
Season 1
[
]
Kendall Roy arrived at work to make his final proposal to Lawrence. Frank Vernon walks in with him to the board meeting, to ensure the deal goes smoothly. There is a disagreement between the man and the deal quickly falls apart. Lawrence walks out and Ken is left with nothing. [1]
Ken and Lawrence spend the rest of the day going back and forth on different topics. Their negotiations are cut short when Lawrence informs Ken, his father is in the hospital. [1]
With the Vote Of No Confidence against Logan Roy approaching, and Kendall and Roman Roy must get all their ducks in a row to ensure they have the majority vote. Roman attempts to sway neutral board member, Lawrence, taking him out to dinner with his boyfriend to confirm they have his vote. He eventually agrees yes. [2]
During the board vote, Logan refuses to leave the room, while Kendall is only able to join over the phone due to a last minute attempt to secure another vote. As a result, Lawrence ends up abstaining, stating that he "doesn't have a dog in this fight". Afterwards, Logan's position is preserved, and he immediately fires everyone who voted against him, including his son. [2]
Season 2
[
]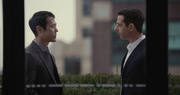 Kendall Roy announces to Lawrence that his father and Waystar Royco will be doing a routine check of his new company. He'll be conducting it personally along with his brother Roman. Ken and Roman Roy look into the company to see what can change. Ken spends the next 36 hours buried in paperwork thanks to Lawrence, who is trying to bury him and it. Unbeknownst to him Roman has taken out a couple of staff members and gotten them drunk, in order to find out any details or gossip. [3]
Days later, Ken goes into the company to secretly install Wi-Fi blockers. That morning he arrives at their company to inform everyone they have been terminated and have 15 minutes to get out of the company. Lawrence demands to know why, and Ken only answers "because my dad told me to" [3]
References
[
]