"It doesn't matter what you offer; he'll never recommend this to the board. You're gonna bleed cash. He's gonna bleed cash. It will never end. And maybe, you'll kill him, but if you don't, he aims to kill you. He will go bankrupt or go to jail before he lets you beat him. He will kill you on the business and if that doesn't work, he will send people around. He will send men to kill your pets and fuck your wives, and it will never be over, so that's the message." ― Kendall Roy
Kendall Roy is Logan's second-oldest son and a prime to lead Waystar when Logan retires. However, he has yet to gain the full trust of his father.
Early Life
[
]
Kendall and Stewy Hosseini went to Buckley School and Harvard University, and used to party and do cocaine together. Ken also used to have a heavy cocaine problem and even had to attend rehab. In the first season episode titled, "Sad Sack Wasp Trap," Kendall implies that he wrote for the Harvard Lampoon which means he went there for undergraduate.
Season 1
[
]
Kendall arrives early to work to make final preparations for with Lawrence Yee. Frank Vernon accompanies him in the board room, but the deal quickly goes south and Mr. Lawrence leaves. One of his employees asks him if he wants to call his father. Ken snaps at him and demands they all get back to work. Ken informs his father negotiations are still ongoing, and they will have to raise their price. He also confirms he is still set to be announced as his successor later that night.
While trying to salvage the deal, their team is interrupted by Roman, while Ken ensures he stays out of the loop. His father arrives in person for him to sign some last-minute housekeeping. That evening, Ken and the rest of his family celebrate Logan's 80th birthday and are introduced to Greg Hirsch. After Ken ducks away to talk with Rava Roy about the kids. He is continuously trying to reconcile, while she politely declines. Logan calls for a meeting with all his children and presents them with papers to sign, leaving his wife Marcia Roy as Successor to the company. He also announces he will not be stepping down, before adding Ken already signed. Everyone else says they'll get their lawyers to look it. Ken is upset at what his father did and a fight breaks out between the siblings. Ken confronts his father, but he stands his ground. They stop when Marcia calls them all for dinner. After dinner they decide to enjoy their traditional game of baseball, arriving by helicopter on an already set up field. Ken tries to negotiating with Roman and Shiv they both reject his proposal to make him the successor with them as COO. Ken is forced to fly back early to work on a deal with Lawrence. Hours later Lawrence informs Ken his father is in the hospital. [1]
After hearing about his father's attack from Mr. Lawrence, Ken rushes to the hospital. The brothers are all trying to do damage control. Green lighting potential obituaries for the media to run, after the doctor informs them Logan had a hemorrhage stroke and is currently unconscious, and unresponsive. When Gerri Killman and Karolina Novotney arrived they still haven't decided who should become CEO in Logan's absence, information they need before the stock markets open. They at least agreed to go with the statement that nothing happened. All while Connor thinks they should sign the papers for their dad, everyone else disagrees. Ken tries to give both Gerri and Frank the CEO position, however they both decline. Eventually, they decide Kendal will be CEO and Roman will be COO. Ken celebration is quickly cut short as Gerri informs him Waystar Royco $3 billion in debt. In another room, Logan wakes up. [2]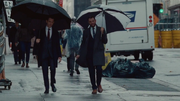 With Waystar Royco's stock plunging to dangerous lows, Gerri tells Ken the bank can take the company if the stocks fall below 130. Ken immediately calls the bank; however, his foul mouth gets the best of him and the bank manager declines to make any special offers. Ken spends the night with his ex-wife, Rava Roy but in the mornings confirms she's already hired a lawyer. Later, Ken contacts his old pal, Stewy Hosseini, who agreed to a minority stake to sell the company, but wants voting stock. The Roy Family would maintain control, and Stewy would also have a board seat. In return he would keep the debt out of the news. The company still fall below 130 points. However, his new deal insured Waystar Royco wasn't in as hard of a freefall. Kendall tells his father what's happened, and Logan insults his son before he leaves. [3]
Rava to decline to go with him to annual foundation gala. Jess Jordan informs him his father is in his office waiting to talk. His dad confronts him about selling part of Waystar Royco, but Kendall stands his ground. Saying they were only in a freefall because he put them in so much debt. That night Ken is accompanied by the woman he has a crush on, that Gerri set him up with. His speech is canceled when his father decides to publicly announce he is back to run his company. He is left dumbfounded when his father threatens him to never pill an unspecified stunt again. He is also informed by his date that she only agreed to accompany him in order to keep her job. He apologizes before allowing her to leave. [4] Weeks later, after hearing Logan's plan to expand to local TV, Ken begins to plot a Vote Of No Confidence against his father. [5]
With the Vote Of No Confidence against Logan approaching, and Ken and Roman get all their ducks in a row to ensure they have the majority vote. Roman attempts to sway neutral board member, Lawrence, who eventually agrees yes. The night before the big vote, Ken has dinner with his dad upon the request of Marcia. They eat burgers in front of the TV. The next morning Ken flies out to Long Island to get a yes vote from Ilona Shinoy. He secures her vote but is unable to return back to the city. There is a lockdown and they are in a no-fly zone. Ken desperately tries to make it back in time for the vote. Logan's ambush with the vote and refuses to leave the room. Strong-arming more people to vote with him, instead of Ken. Frank and a bunch of other people vote against Logan, but everyone else votes for him. Including Roman. Logan stays and immediately fires everyone who voted against him, including Ken. [6]
Logan agrees to a weekend-long family therapy session at Connor's New Mexico ranch. Unbeknown to most of The Family, he's arranged to have it double as a publicity stunt. Kendall has cut off communication with everyone and suing his father and possibly his brother after being fired from Waystar Royco. He is invited to the weekend therapy, but refuses to attend. Ken calls his ex-wife Rava who reminds him of his parenting duties. She asked if he's been using drugs again. He insists he is sober. Ken changes his mind about New Mexico, but not before dabbling in drugs and alcohol with some locals. He is eventually picked up by Roman. By the end the first day everyone is mad at each other. Ken arrives intoxicated and picks a few fights. Ken and Logan almost get into a physical altercation, after Logan admits he planted the stories about his son's drug use. [7]
Everyone is getting ready for Tom's bachelor party in Prague. Ken and Frank meet two young artists. Angela has an idea for a new app that would find and promote small artists to get their art showed to people with bigger pockets. Though they are in it for their love of art and helping people, Ken is clearly in it to make money. [8]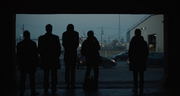 The bachelor party is scrapped by Roman who has his own ideas and arranges to have the party in the middle of nowhere beside the train tracks. Ken shows up late and on drugs. Once inside, it appears everything goes. Ken is informed by Frank that Angela has decided to go with someone else. This annoys Ken who spots her at the same party, after confronting her angrily she tells him fuck off. Greg finds Ken about to snort four more lines of cocaine. Taunting he might overdose, so Greg agrees to snort the last two. Ken runs into his old buddy Stewy and they began making business arrangements. Stewy even mentions his boss Sandy Furness, who is willing to buy Ken's portion of the company for half $1 billion. Ken is interested but only if he can meet Sandy personally. The night ends with everyone rounded up in the morning waiting to go home. The next morning Ken calls Fred, to spread rumors about the two young artists that dropped him He is also made an agreement with Sandy and steely to undermine his father's company for a takeover. [8]
The Roy family assembles in England for Shiv and Tom's wedding. Ken meets Stewy inside an old English pub to finalize their discussions about the takeover. Luckily, with the exception of his father, everyone from Waystar Royco is attending the wedding. The Roy children all meet with their mother, Caroline Collingwood outside of the wedding venue. Caroline has a rather dark sense of humor and is not afraid of stepping on anyone's toes. Even alluding to the fact that Greg's father is gay. [9]
Before the big party starts Ken has a walk with Frank to discuss what the Canadians think of him. Frank says it isn't very flattering. During the big party before the wedding, Shiv has a couple of conversations with Gil Eavis. At one point even her brothers Ken and Roman come over. Roman tries to start some drama, but no one is taking the bait. Ken runs into his ex-wife Rava. She politely offers an ear if he ever needs one, but also encourages him to nudge his lawyers along about the divorce. This sets Ken off who is just finished a line of coke in the bathroom, but before he can berate her anymore, Rava leaves. At one-point Ken becomes paranoid that Frank and Gerri are talking about him, only to find out they were reminiscing about the castle. Ken quickly excused himself.
Before the night is over the siblings all meet down at the docks like they used to. They realized they forgot to invite Connor. They all get a little high and just talk. After, Stewy and Sandy inform him the takeover will be moved up to this weekend. And is going to take place tomorrow, on Shiv's wedding, it is the perfect time with Logan out of the country. Ken begs them to reconsider, as he says there isn't enough time to get everything together. Though un-said, he most likely doesn't want to ruin his sister's wedding. [9]
The day of Shiv and Tom's wedding has finally arrived. Both of their entire families have gathered to take photos. While photos are still going on, Ken has quarantined himself away with Stewy and Jess. They have fast tracked everything for the take-over, with the final documents being printed. Unfortunately, Jess isn't sure where they were sent, and everyone quickly starts looking for them. During this time, Stewy and Ken decide to do more cocaine, and Stewy says Ken has to tell his father of the takeover. Ken informs his father of the matter while he is getting ready for the reception, and is promptly kicked out of his room. During the reception everyone except Ken is at the head table. Both families give speeches to the bride and groom. [10]
Afterwards Logan very subtly gathers all his children in a separate room. He informs them of Ken's attempted takeover of the family company. They all turn on their brother before the father re-enters the room. After being berated by his siblings Ken goes back to his room with Stewy. He asks for more cocaine but Stewy insists he is fresh out. While getting fresh air Ken runs into Greg. Greg says he is proud of Ken and wishes him good luck. Ken is looking for cocaine runs into Andrew "Doddy" Dodds, the kid his father fired earlier. They both smoke and it doesn't take Ken long to ask for cocaine. Doddy does a line of ketamine and says he can't drive, so Ken takes the wheel. Before crossing a bridge, a deer runs out on the road and Doddy swerves them into the water. The car immediately sinks but Ken is able to make it out. He attempts to find the young boy for a while in chilly waters of Atlantic winter night before giving up. He begins the long walk home. Once back to his room, Ken realizes he forgot his key, so breaks in. He showers off and changes only to return to the party as if nothing's happened. He makes sure to make appearances with everyone.
The next morning at breakfast, Ken is called into his father's library. Logan makes a mock display of asking if anything was stolen as his key card was found on the fired employee. Logan has everyone leave the room and he informed his son he knows what happened with Andrew. He promises to cover up everything for him, but he has to tell Sandy and Stewy he's out. Ken cries in his father's arms but obliges. [10]
Season 2
[
]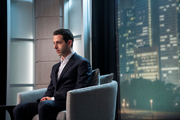 Kendall's stay at rehabilitation center in what appears to be Iceland is cut short after 48 hours when he is driven to local television station to issue a live statement. Karolina prepares him, with his go-to line of "I saw their plan but my father's was better." After, Ken has an update with his father, Logan and Karl about his attempted take-over. Ken disclosing he told Stewy Hosseini and Sandy Furness about his father's medication, and any other embarrassing stories about his physical or mental health. Afterwards he asked for Jess Jordan, as she is the one who secures his cocaine. Over lunch with Greg, Ken does another line while they discussed their time in England. [11]
Days later, Ken, is the first to arrive at the Roys' summer home in the Hamptons for the weekend. There is a horrible smell and Colin discreetly takes him to the laundry room for an update about Andrew "Doddy" Dodds. Currently, UK police believes the kid was traveling solo and under the influence, he was also found with his seatbelt off but was unable to get out of the car. His death will be ruled as misadventure. Later that afternoon the rest of the siblings meet up, and Roman demands to know what changed Ken's mind. Ken says nothing. At lunch the rest of the family demands to know why Ken is allowed back into the family fold so easily. Roman and him now even share the position of COO. Logan ignores them and asks if he should keep or sell the company. They all begin to voice their opinions, before Logan decides to have them brought into his office one by one with an explanation behind their reasoning.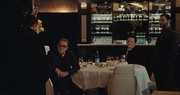 On the last night at dinner Logan abruptly takes off early and brings Ken with him. They fly by helicopter back to New York, where Logan ends up sending him in alone to warn off Stewy and Sandy. He gives a very powerful speech about how his father will bury them. [11]
Days later at Ken's daughter's birthday, three of the siblings are called away for an impromptu meeting with their father. They watch Stewy's TV interview, insisting that Logan is too old and out of the loop to run his company. They discuss how to counter attack, and go with Shiv's proposal to immediately fire back a statement that day. The next day Ken announces to Lawrence Yee that Waystar Royco will be doing a routine check of his new company, and it will be conducted personally by him and Roman. Ken spends 36 hours lost in paperwork, while Roman takes the easy way out and get staff members drunk for information. They both inform their father of their findings, Kendall wants to keep the company but Roman warns they want to unionize, and most of them do nothing. Logan agrees with Roman, and orders Kendall to scrap the company. Later that night he secretly installs Wi-Fi blockers. [12]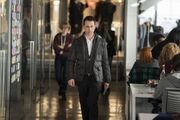 Knowing that Greg is looking for an apartment, Ken offers an unused luxury one, provided he can use it to party. Much to Greg's surprise the party is an all-night rager. On the morning of the announcement Vaulter is informed they have 15 minutes to vacate the premise. Lawrence demands to know why, and Ken only answers "because my dad told me to" Afterwords Ken makes a quick stop at a variety store and on his way out steals a pack of batteries, only to toss them in the garbage. [12]
Logan is impatient for a solution to his Sandy Furness problem. He informs everyone they will be taking over a media-giant PGM, and bringing Frank Vernon back on to ensure a smooth transition. A few board members voiced their concerns, beut are quickly shut down. Kendall agrees with his father, and Roman knocks him for it. Later, Greg appears to give Ken some cocaine, before the big work trip to Hungary. During the plane ride, Karolina informed Logan Michelle Pantsil has a close source from inside his camp. Furious Logan commands to find out who, after accusing Ken. Once they land everyone touches base with Frank to discuss PGM before going hunting. Ken and Roman team up in search of the freshly released pig, but Roman steps away for private phone call. Someone makes a kill and they take a group photo before the boar is prepared for dinner. [13]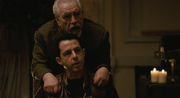 Part way through dinner, Logan confronts the room demanding to know who tipped off Naomi Pierce, and who has been talking to a book editor about him. He first accuses Frank, and then Karl, before making him stand in the corner. He is accompanied by Tom and Greg. He berates them and forces them to eat sausages, before Ken discovers Roman was the mole after he steals his phone to check his logged calls. Ken also confesses the team doesn't think that PGM merge is a good idea. Logan is going to go ahead with it anyway. The next day at breakfast it is discovered Moe was the one talking to the book editor. [13]
After arriving early to work Ken, makes his first phone call to Rhea Jarrell to set up a meeting. Later when in his father's office he is surprised to find Shiv there, but both insist it's nothing. Later that day he makes his first contact with Rhea down in the parking lot for a secret meeting with Logan inside a small room. She informs them that the Pierce Family is not interested in selling their company, and the meeting is over. After hearing gunshots Ken is wondering the building, but soon ushered into a safe room with his father, Shiv and Rhea. The topic of the merge comes up and Ken is able to determine the only problem was they wanted more money. Rhea unofficially confirms his suspicion. Eventually it is determined the gunshot was from a suicide, and they are allowed to leave. [14]
Logan officially informs his family they will be binding Pierce Media. However, before any deals can be made. The Pierce Family wants to ensure they are selling to good people, and he demands a sharp and crisp image from everyone. They helicopter in, and greet the family outside before making their way inside. Both families are mingling and Logan even gives a speech after Nan Pierce encourages him to. Kendall meets Naomi Pierce, and they bond over their shared drug use. Logan soon heard his entire family into a small room, telling everyone to do better. He scolds Shiv for her rude joke, and tells Connor to stop talking politics, and reminds Ron to be more polite before he ushers everyone back out. That night at dinner everyone is having rather cordial conversations. Ken and Naomi are sat close to each other and flirting. The question of who will succeed Logan comes up, but he declines to answer. Shiv announces she will be taking over, and Logan, in a spout of anger quickly shuts-down the conversation. An awkward silence ensues until Nan Pierce suggests everyone go for a walk. Once outside everyone is stargazing, but Ken and Naomi sneak off to do some illegal drugs and get inside one of the family helicopters. Ken is playing with some buttons and accidentally starts the helicopter. After a bit more discussion, the two make out. [15]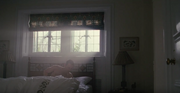 The next morning Ken wakes up naked and alone and appears to have defecated in the bed. After breakfast Nan and Naomi have a private meeting with Logan, Shiv and Ken. They agreed to sell their company, but after hearing the list of condition, including Shiv be his successor, Logan gets upset and leaves. Once they arrived back in New York, the Pierce family has changed their minds and agree to the terms. Everyone celebrates over champagne. [15]
Logan demands his staff continue obtaining information about the PGM settlement while they wait to land at a tiny airport along with many other billionaires for the world convention in Argestes. One at the conference, Logan and a few others are soon ushered away by Colin to another room. A magazine has been tipped off about the Cruise Line Scandal and are going to go public within 36 hours. They conference in Shiv for her suggestions, but ultimately go with Ken's idea of playing hardball and threatening to sue. They all agreed to immediately wrap up things with the Pierce family. [16]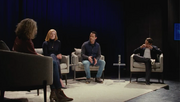 Kendall visits his friends Stewy and warns him to distance himself from Waystar Royco. Nan and Rhea finally arrives and have breakfast with Logan and Ken, who are trying to subtly rush the agreement with papers to sign. Unfortunately, the story brakes, and the two quickly make their exits to do re-con. In a private room everyone goes over the information on their phones. The magazine moved their story up after being bullied by the family. The article informs how Moe demanded sex in order for the dancers to keep their jobs, and if they declined were fired and blacklisted from other events. They ask Shiv to be on the panel, but she declines. They decide on Roman and Ken. Everyone makes their way across the court, while Logan is informed how many people are canceling on him. Ken tells Jess to hang back when he sees Stewy approaching. He has some harsh words for Ken, but the two both continue walking. Not long before presentation Shiv shows up, wanting on the panel. Everyone argues and they try to knock Roman off. Logan decides all three of them will go. Once onstage, Shiv and Kendall dominates the conversation. Shiv acknowledge how serious the situation is, while also repeating it happened a long time ago, and makes a joke about her father being a dinosaur. Kendall agrees the accusations are horrible and will be dealt with appropriately. After the conference, they all get into a fight, where Roman makes another his regular type of wisecrack comments upto the point of regurgitating Shiv's "joking" description of his dad as an "old dinosaur" and he's suddenly backhanded in the face by the latter, consequently knocking out a tooth. Ken reflexively stands up for his brother with blazing urgency, yelling at his father to never do that again. [16]
Ken sneaks away for phone sex with Naomi. She convinces him to send her a dick-pic, to which he awkwardly complies. Frank and Gerri call for a private meeting with Logan, Ken, and Roman upstairs to discuss their shareholders and decide to fly to London to reassure everyone, including his first wife Caroline Collingwood who holds 3%. [17]
Logan and Roman arrive on the plane to find Ken and Rhea. While making meetings with shareholders in London, a local tabloid owned by Sandy comes out with an article about Doddy. It is believed to be a part of propaganda offensive created by Steely and Sandy. The publication alleges that Logan bullied the kid to his dangerous driving causing death. Logan immediately sets up a meeting with the kid's family, and instructs Ken he's coming along. Logan and Ken arrived at The Dodds' home, and are greeted by a single photographer. Logan is the one spearheading everything and takes charge. Ken was left isolated in the kitchen while they have a private conversations in the living room. Ken begins to spin out while looking at photos of Andrew, he does dishes of the household he touched. His father eventually comes out and they leave together. Later that night, Ken returns to drop cash into the mailslot. Ken visits his mom, having not seen her in years. Only to discover after a deal made between her and their dad all the kids will be spending Christmas there. He starts opening up, but she is not willing to listen, promising they shall talk early morning instead. All three kids spend the night and the next morning she has taken off before having said goodbye, leaving a note in her wake. [17]
Everyone is gathered in upper East New York to watch the opening night for Sand written by Willa. Connor and Willa give a small speech, and Willa admits the play's dialogue is still 40% unfinished. Meanwhile, Kendall has his eye on the lead actress Jennifer. The next day, they are all doing a voice recording for their father's upcoming 50th anniversary in Scotland. Kendall walks in and silently boasting about his one-night stand. After, the Roy family take a private plane to Scotland. When they land, Kendall calls up Jen, and sends a car and a private flight for her to Dundee. Before diner, the family gathers for a small meeting over drinks. Shiv motions for the waiter to poor up Rhea's drink, only to verbally stop him, saying outload "no, she doesn't drink" adding Rhea is also a liberal. Knowing this would upset her father. Rhea attempt to smooth things over with the speech, purposely mentioning Logan's mother and sister after being advised to by Ken. This further irritates Logan. It's clear both siblings have it out for her. [18]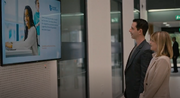 The next day, what was supposed to be a tour of Logan's childhood home, ends abruptly when he only rolls down his window from the car before leaving moments later. While on a tour of Logan's print building, Rhea asks why Ken tossed her under the bus, and he admits he's just along for the ride. She tells him she believes when things are over, Logan will give Kendall the company. Later, he is in bed with Jennifer, but interrupted by Conner at the door. He demands he sends Willa's lead actress back. Kendall just laughs the entire thing off. Before the big party, all the siblings are gathered in a room and Shiv brings up her distrust of Rhea. However, none of her brothers believe her.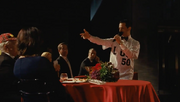 Rhea quiets everyone for Logan's arrival. He is very surprised and immediately leaves the venue only to return minutes later. Having gathered himself, Logan thanks everyone and begins shaking hands. Ken is showing off some artwork to Jennifer, who confronts him that he talks about his father a lot. Ken laughs it off and decides to introduce her to his father. Logan smiles at them throughout the introduction, before he makes his exit. The crowed is gathered for speeches, where Ken surprises everyone with a rap, showing off his jersey underneath his dress jacket, much to the surprise and enthusiasm of the crowd. After Logan announces Rhea as his new successor. Much to the shock and surprise of everyone. Ken meets Jennifer outside and informs her she used the word 'awesome' a lot when talking to his father. He excuses himself only to have her sent home immediately. [18]
Logan and the men in the family watch the news for who's names will be pin-pointed out for the Cruise Line Sex Scandal. Moe's, Gerri's and Tom's names are all mentioned. Ken is rather relaxed throughout the entire thing, while Tom and Greg periodically look nervous. The next day while running damage control, Rhea joins the party rather late, and after a quick appearance in a feeble attempt to rally the troops, departs again. [19]
Weeks later, they are gathered at the courthouse. After Tom's debacle questioning before Congress, Logan and Ken make a joint appearance. Slogan reads his well-prepared statement, but immediately differs all questions to his son. Surprisingly he pulls through very smoothly. Shiv is cheered a hero when she convinces the witness to take the money over testify. [19]
Gregory, Ken and Naomi Pierce all arrived on the yacht at the same time. Greg is surprised there are no shoes allowed, and is embarrassed to reveal he has a foot fungus. While everyone is relaxing, Logan mysteriously tells everyone to continue relaxing and he'll see them at dinner. They all begin to suspect something. Knowing there is a scapegoat, Roman begin stirring the pot. Logan is surprised when Ken insists Naomi's stay. He promises she understands the business going on, and won't be around for any of it. Logan confesses he didn't realize things were so serious between the two, and they briefly talk marriage. However not long after, Naomi leaves to go somewhere else asking Ken to come with her. He declines and watches her leave. [20]
The next day at breakfast Logan announces they need a blood sacrifice. He doesn't say who, but asks for ideas on what to do, promising whoever did volunteer would be taken care of. Everyone tippy-toes about, giving up another's name after theirs has been called. Logan breaks it up. Telling everyone it's enough conversation for now. Ken tells his dad if they need help, Stewy's in Greece, but he declines. Later Logan asks Ken set up the meeting with Stewy Hosseini. Stewy shuts them both down, on the drive back, Ken is steering the boat while Logan sleeps in the back.
Logan finds Ken working out, and interrupts his cardio for a conversation. He soon asks Ken to take the fall. Asking his son to go to jail for the cruise line scandals. Ken ultimately agrees. Before he goes he asked his father if he ever was going to make him CEO, and if he ever thought he was good enough to run the company. Logan admits he didn't have much faith in him, although he caveats by saying "maybe" it's obsolete in the contemporary age. That night at dinner Logan announces Ken will be going to prison. Roman feebly attempts to speak up for his brother and instead suggests to pick somebody from executive suite, other than Gerri. The rest of the dinners remains very quiet. The next morning Greg and Ken fly to New York for the announcement. Ken prefaces to read his prepared statement, but he suddenly decides to change his mind, telling all the news reporters in the room that his dad was fully complicit and knew exactly what was going on during the entire period of the scandal. He promises them that he would answer their questions in the "coming days" and tores up his speech notes on the table, proceeding to walk out. [20]
Notes
[
]
References
[
]