Synopsis
[
]
Kendall begins to plot a vote of no confidence against Logan.
Plot
[
]
Logan's estranged brother Ewan Roy is invited from Canada for American Thanksgiving by Marcia Roy. His grandson Greg Hirsch makes the long 12-hour journey to pick him up, as his grandfather doesn't like to fly. Upon his arrival, they promptly get in the car, where Ewan insists, they drive in silence the rest of the way. He say he wants his grandson to focus on driving but really wants to escape from Greg's jabbering. [1]
After hearing Logan's plan to expand to local TV, Kendall Roy begins to plot a Vote Of No Confidence against his father. Tom Wambsgans grows increasingly concerned about the terms of his prenuptial agreement with Shiv Roy and recruits Greg for a clandestine task of shredding documents. The family is surprised by Connor's choice of date at Thanksgiving dinner, as he brings Willa Ferreyra, his girlfriend who was a prostitute.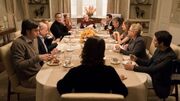 Upon arriving at his brother's house, Ewan is kindly greeted by Logan's wife and children. The two brothers have a cold exchange, but sit down to dinner with each other at a long table. They mainly ignore each other for the rest of dinner. Before dessert is served, Ewan comes into the library to find Logan explaining his medals to Willa. All medals are collector's items Logan bought. They get into a heated argument, and Logan makes fun of him, insisting Ewan only joined the Vietnam War to impress a girl in their town. Ewan is furious at his brother, who has never served a day in his life.
As Ewan Roy departs on the elevator, Kendall takes the opportunity to accompany him and broach the possibility of taking control of the company from his father and tries to feel out where his uncle, a member of the board, stands on this. Uncle Ewan makes it clear that in spite of all the bad blood and disagreements between them, he is firmly on his brothers' side of this. Then instead of getting off the elevator as they reach the ground floor, he pushes the button to go back up to Logan Roy's residence. Kendall, concerned that uncle Ewan is going to blow this up in front of the family, is relieved when Ewan announces he came back to claim his cane, which he had forgotten.
Upon storming out again he runs into his grandson Greg just arriving on the elevator, and insists they start the 12-hour journey home right now. Greg is just returning from his shredding assignment and asks if he can eat first. Kendall says he can make arrangements for someone else to drive and Ewan agrees.
The family plays a game of 'I went to Market' and when the can of cranberry sauce is passed to Logan for his turn, he blanks. His grandson, Iverson, comes to tell him he lost and take the can and Logan gets upset and strikes his grandson.
Later Kendall is out on the balcony and Gerri approaches him. She asks if there's plan to turn against Logan seeing as he is unfit to run the company. She clarifies she works for Waystar, not Logan Roy.
Notes
[
]
Canada and America have different Thanksgivings.
Thanksgiving is only celebrated by Canada and America. Scotland or Europe do not celebrate the holiday.
Shiv Roy and Tom Wambsgans are getting ready for their wedding and looking into Prenuptial agreements.
Ewan Roy served in the Canadian Armed Forces, and join the Vietnam War.
Logan became an American citizen later in life, he would have had to renounce one of his other citizenships. According to his brother, he renounced both.
If Ewan Roy volunteered to join the Vietnam War, and Logan didn't, than they were both probably living in Canada between 1955 – 1963. (The war ended in 1975) As they would have been too young when the war started in 1955, and by 1963, Logan wouldn't have been an ideal candidate at 25 years old.
Cast
[
]
Promotional Videos
[
]