Greg Hirsch is Logan's lackadaisical great-nephew. Far removed from The Roy Family's wealth, he moves to New York to ingratiate himself to Logan Roy and get a stable job within the company. The first cousin once removed to Kendall Roy, Roman Roy, Siobhan Roy and Connor Roy, he is referred to by family members as "Cousin Greg." His mother is the daughter of Ewan Roy, Logan Roy's estranged brother.
Early Life
[
]
Greg was raised by his single-mother in (possibly) Canada. His nickname as a child was "Greg The Egg" because according to Caroline Collingwood, he appeared misshapen like an egg as an infant.
Season 1
[
]
Somewhere, presumably in Canada, Greg was taking a management training course and had on a mascot costume for Waystar Royco. He'd gotten high in his car before attending class, and now, while inside, the costume becomes overheated all the while a bunch of kids are jumping on hill and he vomits in his suit. He is promptly fired and his mother, Marianne Hirsch tells him to fly out and see his great-uncle Logan Roy, and ask for a job with the family. [1]
Days later, Greg greets his great-uncle at his apartment building with the present. But is slammed against the wall by Colin. He explains his mother called Marcia Roy who said it was okay to come over for his birthday. Logan allows Greg to ride the elevator with him, and are greeted by his entire extended family. Logan calls for a meeting with all his children when Greg asked for a job. Logan tells him to call his brother, Ewan Roy to ask him for a job for Greg. Knowing they're not on good terms, he reluctantly agrees. After dinner they decide to have their traditional game of baseball. Before arriving, Logan agrees to give Greg a job. After the game, while flying home, Logan has a stroke. [1]
The Roys are all at the hospital. The doctor explains Logan had a hemorrhage stroke and is currently unconscious, and unresponsive. Greg calls his mother, to ask for advice on what to do about Logan, as he confirmed his job, but there was no one else to witness it. While on the phone he gives Shiv Roy his last $20 for her to buy sodas for everyone. Greg tries to confirm he has a job and begins to slyly add it into the conversations with everyone. Marcia sends him to the apartment for Logan's things. Before leaving, Roman asks him to get the envelopes from earlier. Later Shiv calls Greg and tells him not to bring them, as a personal favour. He agrees to both siblings. Back at the house he finds the papers and calls his mother for help, she tells him to align himself with whoever has more power, and he decides to side with Shiv. Over the next few hours; Greg eventually returns with Logan's things, and telling Roman that he forgot the papers. [2]
With Waystar Royco's stock plunging to dangerous lows, Tom Wambsgans and Greg start to work together at the company. Tom continuously gives Greg a hard time and is a little cruel every chance he gets. Greg tries to take it all in stride. [3]
Upon Tom receiving his new job title he is also informed of all the legalities that come with it. Including how the previous title holder hid a lot of terrible crimes of rape and sexual assault as part of a cruise ship cover-up. The information confirmed that their company knew what was happening and did the bare minimum to fix the problems. He confides this to both Greg and Shiv before the charity ball. That night, Tom accuses Greg of talking out of school to Gerri Killman who had just told him not to go public about the Cruise Line Scandals. Greg denies he said anything, and Tom comes to the conclusion it was Shiv Roy. However, it had actually been him. [4]
Greg makes the 12 hour journey by car to pick up his grandfather. He returns with an empty stomach, and not allowed to play any music. While at Thanksgiving dinner, Tom convinces him to shred hundreds of documents linking the company to the cruise line scandal. He misses out on most of Thanksgiving and when he returns his grandfather is upset. [5] Tom thanks him for his efforts over Thanksgiving and takes Greg out for an extremely fancy dinner. However, just prior, he had been forced to go to dinner with his grandfather, and had to endure a less than pleasant dinner. However, he found out about the upcoming vote of no-confidence. While at dinner with Tom, he informed him that's why his grandfather was still in town. After Tom finds out he immediately informs Ken. [6]
While everyone is getting ready for Tom's bachelor party, Logan calls Greg into his office. Greg originally thinks he's there for another reason, even brings up his request to work in a less hostile environment. Logan realizes he's talking about Tom. He promises Greg he'll look into it, as long as Greg keeps an eye on his son Ken during the big bachelor weekend. Both agree. [7]
The party which was originally supposed to be in Prague is moved to an underground party by train track. It appears everything goes, and, within reason, you can do whatever you want. Tom is excited and tells everyone that Shiv gave him the green light. Greg later asks what this means, and if Shiv is allowed to do whatever she wants. This makes Tom uncomfortable and he gets mad at him. Greg is trying to keep his promise and finds Ken about to snort four lines of cocaine. Not wanting him to overdose, he is forced into doing the cocaine himself. He is worried he might overdose, and Tom does nothing to make him feel better. At the end the night Tom informs Greg he got a blow job from a girl who, after she kissed him, put his own cum back inside his mouth for him to swallow. It doesn't take long for everyone to hear about this news, and to make fun of Tom.[7]
The Roy Family assembles in England for Shiv and Tom's wedding. Greg is re-introduced to Caroline Collingwood, who alludes to the fact that Greg's father is gay, and further noting that his nickname as a child was "Greg the Egg" because as an infant, he appeared misshapen like an egg. Later, Greg witnesses an intimate conversation between Shiv and Nate Sofrelli. After preparing all night how to tell Tom, Tom stops him before he can say anything, knowing what he was about to reveal. They get into a physical altercation with Tom shoving Greg to the ground. [8]
The day of Shiv and Tom's wedding everyone is gathered for photos. The reception starts, and everyone gives a nice speech to them, including their parents. While the immediate family is gathered around talking, Connor Roy reveals he wants to run for president sooner rather than later. Everyone is both surprised and uninterested. Greg and Ken run into each other on the balcony while having a smoke. Greg says he is proud of Ken and wishes him good luck. Greg also brings up how Tom had him destroy evidence regarding the cruise line mishaps. But he kept copies of all the major important documents. In return, all he wants is a better position at work. Ken agrees. Greg and Ken don't see each other again until the next morning over breakfast. They exchange some quick pleasantries before Ken goes to see his father. [9]
Season 2
[
]
Kendall and Greg have a quick meal together at Ken's temporary home. They talk about their previous conversation back in England, while Ken does some cocaine before going to the Hamptons with his family. [10] Weeks later, everyone is celebrating Ken's daughter's birthday. Later Connor Roy and Willa Ferreyra host a soiree to mark their return to New York. At work, Tom has been moved up into ATN and brought Greg with him, while Greg tries to get out of it. Tom ignores him and says to go look for any fat to be cut out. By the end of the day, Greg informs him they should digitize everything. During his apartment search he receives a phone call from Ken who offers him a lecturing apartment though only temporarily. As long as he can party there. The party turns into an all-night reacher. [11]
Greg has a meeting with a book editor, Michelle Pantsil looking to get information on his uncle, Logan. Greg quickly gets spooked and leaves. He is in attendance for a company hunting trip in Hungary. While on the flight Logan finds out someone has been talking to a reporter and threatens to immediately fire them. While boar hunting, Greg confesses to Tom what he did, and Tom tells him to trust no one. That night at dinner Logan demands to know who squealed about Naomi Pierce, and who talked to the reporter about him. Logan eventually puts Karl, himself and Tom in a corner. Forcing them to fight over sausages or lose their job. Ken determines it was Roman who blabbed. [12]
Greg finds himself caught in conversation with Cyd Peach, explaining his new job position as executive assistant to Tom. He jokes that he gets Tom his lattes all the time, only for Tom to overhear him and demand Greg go get him a latte before he enters the board room meeting. After hearing gunshots the entire building is put into lockdown with Greg and Tom in the same office. Tom is on the phone with his wife who informs him she is in the panic room, and he demands to go there, but security refuses to move them. Greg confesses he wants a "business open relationship" because he is not happy in ATN. Tom has a mental breakdown over his comment. They debatably makeup and Gregory leverages information about the cruise line scandal so he can be allowed to work in a different department. Tom agrees. [13]
Weeks later, Greg arrives to celebrate the good news of The Roys buying PGM. He informs everyone he wishes to go by Gregory from here on out. [14]
During a conference for billionaires, Greg is excited to have possibly touched ''Bill Gates.'' Logan and a few others are soon ushered away by Colin to another room. Later, Greg tracks Tom down in the rain to address public-outcry over the cruise of "we're listening" was no longer a valid option because it turns out Waystar Royco actually was listening. They debate on changing what to change it to. That night, The Roy kids are waiting behind the curtains while Tom is finishing his speech. Greg is in the audience and claps for his friend. [15]
The next day at work Tom's getting ready to be interviewed about the Cruise-line cases. Tom confronts Gregory about the papers he saved for himself, now demanding they also be destroyed, threatening him with violence. Tom stays with him for the next 12 hours until the documents can be handed over. They destroy the papers together that night in a fire, but Greg still manages to shove a couple papers in his coat. [16]
Everyone is gathered in upper East New York to watch the opening night for Sand written by Willa Ferreyra. Connor and Willa are standing before their friends and family giving a small speech. Later the entire Roy family plus staff are on a private plane to Dundee, Scotland. [17]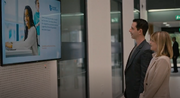 While on a tour of Logan's print building, they are confronted by his older brother Ewan Roy. Their disdain for each other remains. After, Ewan tells Greg if he doesn't quit working at Waystar Royco he will be cut him off, and gives his $250 million inheritance to Greenpeace. What was supposed to be a walk-though of Logan's childhood home ends abruptly when he only rolls down his window from the car before leaving moments later. That night at the banquet hall, Ewan asks Greg if he has turned in his resignation yet, insisting that Logan's denial of climate change will result in more deaths than Hitler. They are interrupted with the pending arrival of Logan. Still trying to avoid answering questions, Greg immediately makes his way to the front of the surprise party.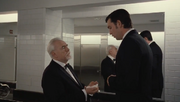 In the bathroom, Logan is cornered by Greg, who tells him, he has absolutely loved working alongside him and hopes he was a good employee but he is being forced to resign by his grandfather, or risk being cut off. Logan promises his brother has always been a coward, but he must do what he feels is right. During speeches in Logan's honor, Ken surprises everyone with a rap, showing off his jersey underneath his dress jacket. Logan then announces Rhea Jarrell as his new successor.[17]
Logan and all his male family members gather to listen to the accused of the cruise line sexual assault cases. Moe's name is brought up, but so is Gerri and Tom's. Ken is rather relaxed throughout the entire thing, while Tom and Greg periodically look nervous. The entire investigation is taken to court (? Court?? You mean congressional hearing?), and Thomas the first person called to the stand. In his panic, Tom even claims to not know who Greg is. By the end of it, Shiv is cheered as a hero briefly for winning the case. [18]
Days later, Greg testifies and is also noticeably nervous. The family, already aware they are off the hook, has planned a giant party on the family' extravagant yacht. Greg is made uncomfortable with the "no shoes" rule as he has a foot fungus. Luckily there was someone on board able to take care of it. Later, Tom swims up to Greg and makes fun of him for now having a favorite champagne. While everyone is relaxing, Logan mysteriously tells everyone to continue relaxing and he'll see them at dinner. They all begin to suspect something. [19]
The next day at breakfast Logan announces they need a blood sacrifice. He doesn't say who, but asks for ideas on what to do, promising whoever does volunteer will be taken care of. Everyone tippy-toes around giving up another's name after their name has been called. Soon, Connor sacrifices himself, Logan thanks him, but confirms he isn't a big enough fish. Before a real argument starts, Logan breaks it up. That night at dinner Logan announces Ken will be the one taking the fall and going to prison. Everyone is shocked and surprised. Shiv, Tom and Gregory seem the most affected.
The next morning Greg and Ken go back to New York to make the announcement. Jess Jordan and Karolina Novotney meet them to go over a few more things. Ken looks over the crowd and suddenly changes his mind, and immediately throws his dad under the bus, with Greg standing at the back with the files he saved that could incarcerate Logan. [19]
Notes
[
]
References
[
]