Dundee
Season 2, Episode 8

Air date
September 29, 2019
Written by
Mary Laws
Directed by
Kevin Bray
<font-family:Trajan Pro;font color="white">Episode Guide
previous
Return
next
DC
Synopsis
[
]
The entire Roy clan travels to Logan's hometown of Dundee, Scotland for a celebration of Logan's fifty years in the business. There, Logan reflects on his past and the company's future, while Shiv defiantly looks to her family for support in taking down Rhea. Ewan gives Greg an ultimatum about working at Waystar. Kendall becomes enamored with Jennifer, an actress in Willa's play. A former employee proves difficult to silence, worrying Logan's inner circle.
Plot
[
]
Everyone is gathered in upper East New York to watch the opening night for Sand written by Willa Ferreyra. Connor Roy and Willa are standing before their friends and family giving a small speech. Willa admits the play's dialogue is still 40% unfinished. While everyone is mingling Shiv Roy awkwardly greets Chris and Tom Wambsgans concludes he is the guy she slept with. Meanwhile, Kendall Roy has his eye on the lead actress Jennifer.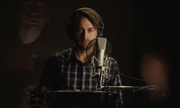 The next day, Roman is doing a voice recording for his father's upcoming 50th anniversary in Scotland. In the waiting rooms with his siblings Shiv brings up her distrust of Rhea, but her brothers aren't overly interested. Kendall walks in and silently boasting about his one-night stand before Connor goes into the recording booth to make a rather heartfelt message to his father.
Later that day the entire Roy family plus staff are on a private plane to Dundee, Scotland. Caroline brings up a disgruntled employee from the cruises, who has information and will not go away. Logan confirms to offer 5 million and willing to go up to 10. Shiv brings up her father's and Rhea's possible affair with Marcia, hoping to create some conflict, but Marcia does not bite.
Logan is riding shotgun with Marcia and Connor as he passes through his old hometown. It is clear his memories are not all good ones, though he doesn't voice most of them verbally. Once at the hotel Shiv confronts Rhea about her power move to try and take the company. While Roman and Gerri talk about their working future together, Roman possibly proposes marriage to her., though she is left uncertain of his question. Meanwhile, Kendall calls up Jen from the night before, sending a car and a private flight for her to Dundee.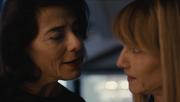 Before making their way to another meeting, Colin interrupts Logan wishing to talk to him in private. Marcia takes this opportunity to corner Rhea and confronts her about her affair with Logan. She denies it, Marcia insists on her being safe and wanting to know if she has any STDs because she and Logan still sleep together. Upon Logan's return, Marcia makes her exit, while Logan and Rhea talk more business.
The family is gathered for a small meeting over drinks, and Shiv tries to convince Tom to go flirt with Rhea. She is currently talking with Roman, telling him how she always thought he was the most intelligent, with so much potential, before Tom interrupts them, with his awkward flirting. While everyone is gathered around drinking champagne, Shiv motions for the waiter to pour up Rhea's drink, only to verbally stop him, saying out loud "no she doesn't drink" knowing this would stir up more drama, accompanied by her remark that she is also a liberal. Knowing both these things would upset her father. This along with her speech that bringing up his mother and their dead sister, something Kendall had advocated for her to do, further upset Logan.
Later everyone is standing outside an old brick building, commenting on despite what their father said growing up, was rather nice-looking now. The entire family is there except for Logan, Marcia, and Kendall. All of whom arrived last. Logan has the window rolled down, and upon looking at his family in front of his old house, deciding to leave. Everyone is rather underwhelmed with this, and start making their way to their own waiting cars, not even bothering to tell the family what is happening. Gerri stops Shiv, wanting her ear for the situation they had been discussing on the plane earlier. Not wanting to bother Logan Shiv gives permission for them to go up to $20million to try and stop the whistleblower.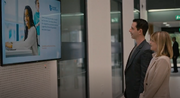 While on a tour of Logan's print building, with all its state-of-the-art technology for newsprint, Rhea asks why Ken threw her under the bus, and he confirms he's just along for the ride. She tells him she believes when things are over, Logan will give Kendall the company. Outside Logan is confronted by his older brother Ewan Roy. Their disdain for each other remains and Ewan brings up how Logan used to lie about the birds he saw growing up. And how he's never changed. Logan leaves with Colin, and Ewan tells Greg if he doesn't quit working at Waystar Royco he will be cut off from his inheritance. And will give his $250 million to Greenpeace.
In a pub, Roman meets with Eduard Asgarov, the two talk about money, and they both agreed to buy a soccer team together. Meanwhile, Kendall is in bed with Jennifer only to be interrupted by Connor at the door. He demands he sends her back, as Willa was very upset to be missing her lead actress. Kendall just laughs the entire thing off.
All four Roy siblings are gathered in a room and Shiv brings up her distrust of Rhea. However, all their brothers think she is being emotional and blowing it out of proportion. None of them are worried, and all of them blow her off. Even admitting they rather like her.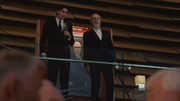 Shiv has a small argument with Tom about Rhea before entering their father's Gala. Logan is on his way with Marcia, informing her, he intends to leave early after the soup and salad. Inside the banquet hall, Ewan asks Greg if he has turned in his resignation yet, insisting that Logan's denial of climate change will result in more deaths than Hitler.
Rhea gathers everyone to be quiet as Logan is arriving, they all shout surprise, and Logan immediately does a 180 outside. He is surprised to find around 200 people when he was only expecting 20 - 30. Marcia calms him, and they are escorted back inside by Colin, where everyone again shouts out 'Surprise'. Having gathered himself, Logan thanks everyone and begins shaking hands.
Ken is showing off some artwork to Jennifer, who confronts him that he talks about his father a lot. Ken laughs it off and decides to introduce her to his father. Connor is already talking to Logan asking him if he wants to invest in Willa's play, as the reviews are in and it is sure to be a hit. They are interrupted by Ken and Jennifer. Logan smiles at them throughout the introduction, before he makes his exit. He finds Siobhan, and they both agreed to call a truce for the night. She presents him with his gift, a scrapbook of all the places they have lived, but are interrupted by Gerri.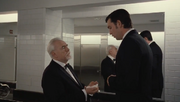 In the bathroom, Logan is cornered by Greg, who informs the older man he has absolutely loved working alongside him, and hopes he has brought something to the table but unfortunately must resign. Admitting his grandfather will cut him off if he does not. Logan promises his brother has always been a coward, but he must do what he feels is right.
Gerri finds Shiv and brings her into a miniature company meeting. Consisting of themselves, Hugo, Cyd, Frank, and Karolina. They bring up the whistleblower from earlier who still refuses $20 million. It appears he has every intention of going public with his information. Shiv makes the choice to keep her father out of the loop, letting him enjoy tonight before they inform him tomorrow.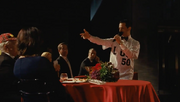 Everyone is seated and gathered for speeches. Where Ken surprises everyone with a rap, showing off his jersey underneath his dress jacket, much to the surprise and enthusiasm of the crowd. During all his children's video speeches, Logan is interrupted multiple times. By both Connor and then Shiv. Siobhan gives her father the go-ahead to not be so sentimental and named someone else as his successor. Logan makes his way to the stage and announces Rhea as his new successor. Much to the shock and surprise of everyone.
Ken meets with Jennifer outside the party, and informs her she used the word 'awesome' a lot when talking to his father. He excuses himself back inside to grab her coat, only to have her sent home immediately.
Marcia is upset with Logan and leaves, only for his brother Ewan to take his place. He once again confronts his brother on being a horrible human being, and can't wait for his empire to crumble. Logan makes his way to center stage, where he unveils his plaque for being a businessman for the last 50 years.
Quotes
[
]
(watching Shiv awkwardly greet someone)
Tom Wambsgans: Who's that? Huh? Is that "him"?
Shiv Roy: Him who?
Tom Wambsgans: "Him who?" - Look at you!
Shiv Roy: What? No.
Kendall Roy: I just want to say congrats. I didn't realize, but that was, uh, you know? You're a playwright.
Willa Ferreyra: Thank you. Yeah - Yeah. I mean, I've always told you I'm a playwright.
Kendall Roy: Yeah, but, you know, Roman's, like "written a screenplay".
Connor Roy: You okay?
Kendall Roy: Hey, I'm drowning in pussy and everything's golden.
Roman Roy: Oh, Ken. Maybe tell that heartwarming story about how you tried to kill him and take over the company.
Shiv Roy: I wonder which way you're leaning. Who's catching your eye to recommend? You leaning towards someone, say, like me who wants to kill you, or yourself, for a second chance at a multi-million-dollar payday? I'm intrigued. Keep me posted.
Roman Roy: Oh, and, um, one more thing, real quick. Should we get married?
Gerri Killman: What?
Roman Roy: You know, not that. Like, an equivalent. Uh A thing, like I abduct you and force you to live with me.
Gerri Killman: Uhh. That's not equivalent.
Roman Roy: Well, then, you kill me, you chop my dick off, you know, something. I'm kidding but you know what I'm saying. Uh You eat me, I eat you, like they do in Germany. Anyway, lot to think about, I get it. So, let it Bye.
Roman Roy: Look at this shit. Are you kidding me? If this place was in Brooklyn, it'd be worth five mil, easy.
Connor Roy: I'd live here. I mean, I wouldn't but someone could.
Ewan Roy: He's morally bankrupt. He's a nothing man who may well be more personally responsible for the death of this planet than any other single human being.
Greg Hirsch: He also makes the Kalispitron franchise, which is, uh, you know, solid, mediocre entertainment.
Ewan Roy: In terms of the lives that will be lost by his whoring for the climate change deniers, there's a very persuasive argument to be made that he's worse than Hitler.
Notes
[
]
Logan had a sister named Rose who died.
Ewan threatened to cut Greg out of his will if he did not quit his job at Waystar Royco.
Roman buys the wrong soccer team for his father.
Logan named Rhea Jarrell as his successor to Waystar Royco.
Cast
[
]
Starring

Recurring Cast

Others

Sydney Lemmon as Jennifer
Saamer Usmani as Chris