Jurassic World: Dominion Dominates Fandom Wikis - The Loop
Play Sound
Celebration is the first episode of Season 1 of Succession. It aired on June 3, 2018.
Synopsis
[
]
On his 80th birthday, media magnate Logan Roy, whose imminent retirement was thought to be a given, shocks his family by announcing he's staying on indefinitely as CEO of Waystar Royco. The news shatters his son, Kendall, the heir apparent, who's in the midst of negotiating the purchase of a digital-media venture founded by a slick operator named Lawrence. After an impromptu softball game, tempers flare as Logan's other children – Roman, Shiv and Connor – raise objections over Logan's intentions, including his desire to change the way his eventual successor will be chosen.
Plot
[
]
Logan Roy wakes up in the middle of the night but is disoriented and urinates in the corner of the room. Realizing his mistake, he allows his wife, Marcia Roy to take him back to their room.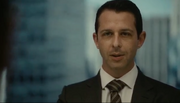 Kendall Roy arrives at work to make his last proposal to Lawrence Yee. Frank Vernon walks in with him to the board meeting, to make sure the deal goes smoothly. There is a disagreement between Ken and Lawrence and the deal quickly falls apart. Lawrence walks out and Ken is left with nothing. One of his employees asks him if he wants to call his father. Ken snaps at him and demands they all get back to work. Ken gets a call from his father inquiring about the acquisition to which Ken informs him that the price will have to be increased, and asks if they're still good to announce him as his successor. Logan states that everything is on track before hanging up.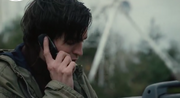 Somewhere, presumably in Canada, Greg Hirsch is taking a training course to be an amusement park mascot for Waystar Royco. He'd gotten high in his car before attending class, and now, while inside the costume has become overheated. When some kids mob him, he vomits in his suit. He is promptly fired and sent home. He calls his mother, Marianne Hirsch, who tells him to fly out and see his great-uncle Logan for his 80th birthday party as he needs to ask for a job with the family. Greg reluctantly agrees.
Roman Roy stops by the network to visit his brother Ken who is in a meeting with Frank and the rest of his staff, trying to salvage the deal. Ken doesn't want to disclose too much to Roman.
While everyone is preparing for Logan's 80th birthday, his daughter Shiv Roy and her boyfriend Tom Wambsgans are out birthday shopping for him. Tom wants to get him the perfect gift, though Shiv warns him he won't care, because he doesn't like anything. They ultimately decide on an expensive watch.
While Ken is at work still trying to figure out the Lawrence deal, Logan arrives to have Ken sign some papers. He indicates they're simple housekeeping sign-offs, and that they are still on track to announce him as the successor that night at his birthday dinner.
Upon arriving in New York, Greg greets his great-uncle at the bottom of his apartment building with a present. But he is promptly slammed against the wall by Colin, Logan's personal attendant.. He explains his mother called Marcia who said it was okay to come over for the birthday party. Logan remembers and allows Greg to ride on the elevator with him. They are greeted by his entire family when they come out. Logan absentmindedly thanks everyone, and introduces Greg. He greets all his children and his grandchildren but declines to open his son Connor's gift, though it is continuously presented to him, eventually showing off a container of sour-dough he received, explaining that it is a way to make traditional bread without yeast, like back in Scotland.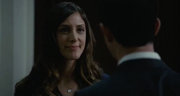 Ken confirms to his father they're still on track while continuously checking his phone. He has a brief conversation with his estranged wife Rava Roy about the kids. He is continuously trying to reconcile with her while she politely declines.
Logan calls for a meeting with all his children, but before he can speak with them, Greg asks for a job, briefly explaining what had happened earlier. Logan tells him to call his grandpa, Ewan Roy, and ask him to intercede with Logan for a job. Greg, knowing that Ewan and Logan are not on the best of terms, reluctantly agrees.
Inside the room, Logan presents his children with papers to sign that would leave his wife Marcia as successor to the company, gaining his vote when he dies. He also announces he will not be stepping down. Everyone is shocked, and Logan adds that Ken has already signed the papers. Everyone else says they'll get their lawyers to look over the papers first. Ken is upset at what his father has done, and a fight breaks out between the siblings. Ken confronts his father, who ultimately stands his ground.
Marcia enters to call them all for lunch. Everyone enjoys lunch, and they decide to have their traditional game of softball. They all get in their cars and drive to the family helicopters to fly to their country estate. Before arriving, Roman agrees to sign the papers, but only if he is brought in as COO. Logan agrees to fire Frank. Logan also agrees to give Greg a job. The family arrives at a baseball field where employees are ready for them to play.
They are divided into teams, and at one point Roman offers a caretaker's son $1 million if he can hit a home run. The kid hits the ball but before he can make it to home plate is tagged out. Meanwhile, Ken is negotiating with Roman and Shiv, neither of whom are involved in the company beyond being board members. They both reject his proposal to make him successor with them as COO. Logan also has a private conversation with Shiv, and once again asks her to leave politics behind and come into the company. She declines. Tom presents Logan with the gift he got him; the expensive Patek Philippe watch. The game ends and everyone disperses. Logan insists his four children ride in the helicopter with him back to New York City. Ken has already gone back in NYC to work on the deal with Lawrence. Before the rest of the Roys leave Colin has the boy and his family sign a Nondisclosure agreement, and gives them the expensive watch from Tom.
While inside the helicopter, the siblings get into a fight with their father once again. They all demand to know why Marcia should be involved in the company at all. The fight stops as soon as Logan begins to have a stroke. They head to the hospital.
Quotes
[
]
Tom Wambsgans: It needs to say that "I respect you", but I'm not awed by you. And that I like you, "but I need you to like me before I can love you." So what says that?
Shiv Roy: Just, look, everything that you get him will mean an equal amount of nothing, so make sure it looks like 10 to 15 grand's worth and you're good.
---
(Hugging her brother, Roman)
Shiv Roy: Oh, what is that? Date Rape by Calvin Klein?
Roman Roy: Yeah, you wish.
Shiv Roy: "You wish"?
Notes
[
]
Logan Roy had a hemorrhagic stroke, a bleed in the deep right hemisphere that put pressure on the thalamus and the brain stem, and that's what caused a loss of consciousness.
Cast
[
]
Starring

Guest Starring

Others

Parker Sawyers as Alessandro Daniels
Crew
[
]
Director:

Adam McKay

Writer: Jesse Armstrong
Producers: Jesse Armstrong,

Maria Cerretani

,

Maeve Cullinane

,

Bruce Dunn

,

Will Ferrell

,

Regina Heyman

,

Ilene S. Landress

,

Adam McKay

,

Kevin J. Messick

,

Frank Rich

,

Dara Schnapper

, Robyn Wholey
Composer:

Nicholas Britell

Cinematographer: Andrij Parekh
Editor:

Mark Yoshikawa

Casting Director:

Francine Maisler

Production Designer: Kevin Thompson
Art Director:

Deborah Jensen

Set Decorator:

Susan Bode

Costume Designer:

Catherine George

Makeup Department: Jerrold DeCarlo, Claus Lulla,

Patricia Regan

, Nuria Sitja
Production Management:

Regina Heyman

,

Timothy Stormer

, Radha Subramaniam,

Nick Thomason

Second Unit Director or Assistant Director: Scott Bowers,

Amy Lauritsen

,

Nick Notte

Art Department:

Michael Acevedo

,

Joseph Alfieri Jr.

,

Michael Auszura

,

Maximilian Bode

,

Michelle Cantillo

,

Katherine Akiko Day

,

Alex Gorodetsky

,

Aaron Judlowe

,

Elena LaTerra

,

Audra Martin

,

Kevin Martin

,

Molly McIntosh

, Shawn Mulligan,

Anthony Navarro

,

Tess Peltzer-Rollo

,

Fanny Pereire

,

Julie Peters-Haymes

,

Carlos A. Rodriguez

,

Joseph Sacco

,

Mark Tierney

,

Joan Winters

Sound Department:

Micah Blaichman

,

Chris Fondulas

,

Matthew Haasch

,

Andy Kris

,

Ed Novick

,

Bill Orrico

,

Jay Peck

, Nicholas Renbeck,

Matt Snedecor

,

Becky Sullivan

,

Jay Wilkinson

,

Lawrence Zipf

Visual Effects:

Josh Child

, Vivian Connolly,

Joe Craig

,

Jose Marin

,

Greg Radcliffe

,

Aaron Raff

,

Jonathan Skabla

,

Shannen Walsh

,

Scott Winston

Stunts:

Mike Burke

, Victor Chan,

Peter Epstein

,

Greg Harvey

,

Anthony Vincent

Camera and Electrical Department:

Craig Blankenhorn

,

Ethan Borsuk

,

Keith Bunting

,

Kevin Fitzpatrick

, Arthur Herman, Rachael Levine,

Eric Lichtenstein

,

Patrick Longman

,

Greg Meta

,

John Oates

, Andrij Parekh,

Jennifer Scarlata

,

Chris Skutch

,

Maxwell Sloan

, Toshiro Yamaguchi
Casting Departmen:

Douglas Aibel

,

Jackie Benz

,

Henry Russell

,

Melissa Braun

,

Ryan Drake

,

Kathy Driscoll

,

Dann Fink

,

Bruce Winant

Costume and Wardrobe Department:

Danny Mura

Editorial Department:

Josh Olive

,

Sam Daley

,

Chris Armstrong

Location Management:

Jay Horne

Music Department:

Matt Dunkley

Script and Continuity Department:

Burke Johnson

Transportation Department: Ivan Schneider
Other crew:
Promotional Videos
[
]